Analysis: Motor Fuel Demand Lumpiness May Dominate Next Four Weeks
There are all sorts of expectations for Memorial Day demand in 2021 at the distribution and consumer level, and indeed it would not take much to inspire panic consumption ahead of the holiday weekend, given the way viral tank-topping behavior took place after news of the Colonial Pipeline outage dominated the air waves and social media.
Marketers hundreds or even thousands of miles away from the Colonial artery saw sales surge last week, but the EIA published a number which implied a weekly demand surge of just 4.8%. The EIA report measures demand not at the pump, but instead looks at the disappearance of fuel from primary storage and compares it to production and imports.
The OPIS Volume report differs from EIA in that it measures actual fuel pumped at more than 25,000 stations across the country. It also measures demand from Sunday through Saturday, in effect taking a snapshot of picture that is one day beyond the EIA report.
OPIS calculated that volumes pumped last week were up 8.5% on the week, reflecting a demand surge that was about 77% above that implied by the EIA Weekly Status Report. What's more, the persistence of station outages throughout this week suggests that transport truck deliveries from terminals to stations are still incredibly brisk.
Watch for EIA to publish a very strong EIA demand number on Wednesday, May 26, and expect another considerable gasoline inventory drawdown. The wildcard next week could come by way of some more panic buying from the public as inappropriate fears about Memorial Day weekend fuel shortages may surface by Tuesday through Thursday of next week.
But here's the rub.
OPIS looked at EIA stats for the week leading up to Memorial Day Weekend and compared those numbers to the three weeks that followed the holiday. The Pandemic year of 2020 was excluded since from mid-April through August it showed consistent increases in most weeks as a reflection of cities and states reopening.
With the exception of 2019, the three weeks following the holiday saw significant drops in gasoline demand. Six years ago, the drop was quite spectacular with June arriving with demand that was 756,000 b/d lower than the days leading up to Friday, May 25, 2015.
Smaller declines were observed from 2016 through 2018.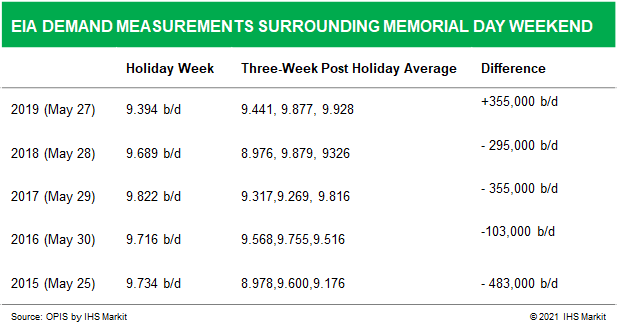 This year, the potential for an immediate June swoon in demand appears high. Panic behavior by motorists in the last half of May is no doubt "borrowing" from the ratable demand one might see in the first summer month. July 1 is a common date for a resumption of normal crowds at sporting and concert events, and many schools have extended staggered schedules because of delays tied to the Pandemic.
The wild card that might resurface and stoke demand in July and August is the transport truck driver shortage. The lack of drivers exacerbated the southeastern outages following the Colonial shutdown. The pipeline's operations have been restored but the driver count is still inadequate to cover extended periods where demand tops 9.5 million b/d.
History shows that those brisk demand weeks most often take place in July and August, and unfortunately correspond to the middle portion of Hurricane Season.
--Reporting by Tom Kloza, tkloza@opisnet.com
© Copyright, Oil Price Information Service