Download a Sample Report
Manage
carbon neutrality commitments with access to compliance and voluntary offsets markets

pricing, real-time news and in-depth analysis.

Streamline how you track your associated costs and enhance your understanding of each market's unique dynamics and regulatory hurdles associated with net-zero policies with the OPIS Global Carbon Offsets Report. The recently-expanded report includes three new voluntary carbon credit price assessments for a total of 55 carbon offsets credits.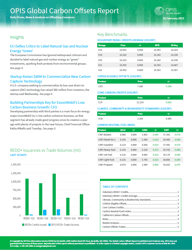 Key Features & Benefits include:
Carbon Natural Fuels Index (OPIS CNFI) NEW!
Core Carbon Credits (OPIS CCP) NEW!
Climate Community and Biodiversity Standards (OPIS CCB) NEW!
26 OPIS Voluntary REDD+ Credit physical assessments
CORSIA Eligible Offset (OPIS CEO) physical assessment
10 California Carbon Offset (OPIS CCO) credit physical assessments
Carbon Offsets Trades log with a 30-day record of confirmed transactions in the offset credits markets
Breaking news coverage reveals trends and fundamentals impacting global voluntary carbon-market supply and demand