Monitor key bunker fuel prices and related global shipping markets
New ship emissions regulations result in costly operational changes for refiners and ship owners and operators. Commonly referred to as IMO 2020, new ship emission regulations issued by the International Maritime Organization require vessels use lower-sulfur bunkering fuel effective January 1, 2020. The new 0.5% very-low sulfur fuel oil (VLSFO) must be created. And because of limited supply and high demand for lower sulfur materials, prices are expected to be much higher than high-sulfur fuel.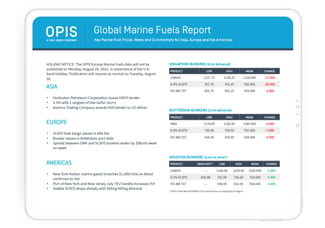 The OPIS Global Marine Fuels Report includes a calculated price for VLSFO as well as assessed prices of currently used high-sulfur bunkering fuels in the most important ports around the world. Plus you'll find exclusive OPIS benchmarked ultra-low-sulfur diesel (ULSD) rack prices for key North American markets, plus ULSD spot prices for Gulf Coast, New York Barge, Los Angeles, and the Pacific Northwest in the report.
Easily track bulk fuel oil and retail bunker fuel prices for Asia, Mideast, Europe and the Americas with this concise report filled with at-a-glance tables and charts. Download a sample report and see for yourself.