Download your free copy of the 2019 Spot Fuel Price Mid-Year Update today.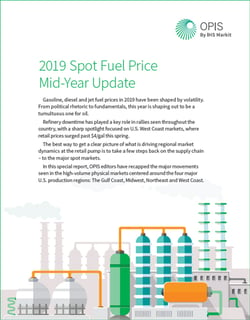 This year has been a tumultuous one for gasoline, diesel and jet fuel prices. The best way to get a clear picture of what is driving regional market dynamics at the retail pump is to take a few steps back on the supply chain – to the major spot markets. Authored by experienced OPIS market editors, this special report recaps the major movements seen in the high-volume physical spot fuel markets centered around the four major U.S. production regions: the Gulf Coast, Midwest, Northeast and West Coast.
Download your copy now for our expert analysis of the key factors that contributed to this year's volatility and what to expect in the coming months.
Share this Report with Colleagues
Follow U.S. spot market trends with the West Coast Spot Market Report and the Full-Day Refined Spot Report ... free for 10 days.
Benchmark gasoline, diesel and jet fuel pricing with expert market commentary. Nearly every gallon of gasoline, diesel and jet fuel sold on the West Coast references OPIS spot prices, making the OPIS West Coast Spot Market Report an essential price reference for anyone doing business in the region. Start your free trial today.
Monitor trades all session long with a full-day view of East of the Rockies spot fuel markets. The OPIS Full-Day Refined Spots Report is a must-have tool for those on both the buy and sell side doing business in the U.S. Gulf Coast, Atlantic Coast and Midwest. Start your free trial today.