Download your free copy of the 2019 OPIS Oil Market Outlook Mid-Year Update.
OPIS's oil market analysts, Tom Kloza and Denton Cinquegrana have compiled what trends are in store for downstream energy markets for the remainder of 2019 and beginning of Q1 2020 in this outlook update.

Download your free copy and get an in-depth analysis of: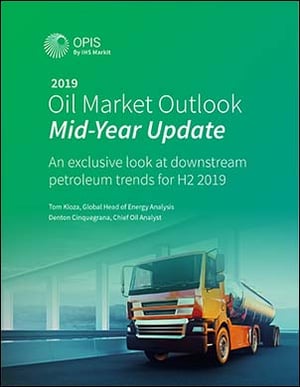 -- 6 major wild cards that will impact oil prices in the last few months of 2019
-- Concerns related to the IMO 2020 desulfurization of global marine fuel
-- Geopolitical tensions and the larger macroeconomic picture affecting crude oil
-- The impact of the shutdown of the Philadelphia Energy Solutions refinery
-- Overview of rack-to-retail margins
-- Demand growth and price expectations
Meet the Authors:
Tom Kloza
Global Head of Energy Analysis

Tom has covered downstream oil markets for over 40 years. A magna cum laude graduate of St. Francis University, Tom has a degree in English and has analyzed crude oil, refined products, and gas liquids for parts of four decades. He has also written commentary for Marketwatch and is a regular guest commentator for Bloomberg Financial Markets and NPR Marketplace. He provides unbiased and expert commentary for print and electronic media during times of oil volatility, and is regularly quoted in virtually every U.S. and international periodical.
Denton Cinquegrana
Chief Oil Analyst

In more than a decade with OPIS, Denton has covered nearly all markets that OPIS has price discovery for. Before being named Chief Oil Analyst, he was Executive Editor for U.S. Refined Products, overseeing the day-to-day market coverage operations. During his time as a Markets Editor, his primary focus was on the U.S. West Coast. OPIS West Coast prices are heavily benchmarked and the West Coast Spot Market Report relied upon daily publication for gasoline, diesel and jet fuel. He graduated from Rutgers University in 1997 with a degree in Journalism and Mass Media.
If you missed the chance to read the 2019 Oil Market Outlook, you can download your copy here.
Share this free download with a friend or colleague: