Download your copy of the 2019 Asia Naphtha, LPG, Condensate & Gasoline H2 Update.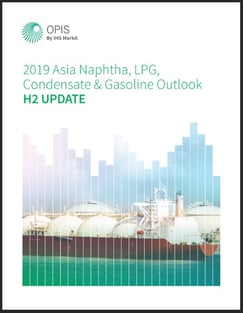 In this outlook report, OPIS examines the macro factors that affect all oil products as well as the market-specific factors that affect Asia gasoline, naphtha and propane prices individually.
This report assesses the impact that these factors have had over the past six months as well as their possible impact for the rest of the year as a follow up to our market outlook report in 2018.

Meet the Authors:
Masayuki Kitano, Principal Editor, OPIS
Masayuki has been covering Asia's LPG and condensate markets since he joined OPIS in June 2018. Prior to that, he was a reporter for Reuters for 22 years in Tokyo and Singapore, mainly covering foreign exchange and bond markets, as well as general news.
Jongwoo Cheon, Senior Editor, OPIS
Jongwoo has been covering Asia's gasoline markets and refinery industry, as well as naphtha markets since he joined OPIS in January 2019. Before that, he worked for Reuters as a journalist for about 17 years in Seoul and Singapore, covering Asia's economy, financial markets and South Korea's auto sector. Jongwoo has a master's degree in journalism, graduating summa cum laude in 2018 from Graduate School of Journalism and Mass
Communication at Yonsei University in Seoul.
Follow market trends all year with the Asia Naphtha & LPG Report.
It's your single source for naphtha, LPG and gasoline pricing at the major Asia-Pacific hubs. Try it free for 21 days.