Download your free copy!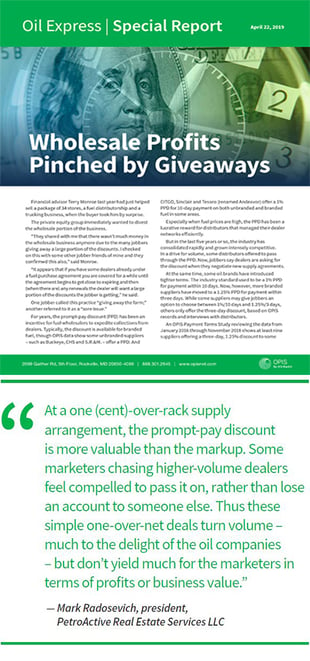 In this free report, OPIS' Senior Editor, Donna Harris takes a look at the current state of prompt-pay discount (PPD), a once popular incentive for fuel wholesalers to expedite payment from dealers.

Especially when fuel prices are high, the PPD has been a
lucrative reward for distributors that managed their dealer
networks efficiently.
But in the last five years or so, the industry has
consolidated rapidly and grown intensely competitive. Now, in a drive for volume, some distributors offered to pass through the PPD, dealers are asking for the discount when they negotiate new supply agreements, and some oil brands have introduced tighter terms.
In this free download, you'll get a better understanding of:
-- The risks involved with offering PPD & ways to manage them
-- The role of competition and major oil affecting PPD
-- How giveaways along with the discount are hurting marketers
-- New payment terms being offered
Share this Oil Express Special Report with a colleague: