The summer driving season has ended with retailers around the country seeing margins at record levels. National retail gasoline margins during the summer averaged a record-breaking 29.2cts/gal during the drive season, which starts on Memorial Day weekend and ends on Labor Day. That's more than 21% higher than the previous record of 24.1cts/gal set in 2015 and a 25% increase over 2018.
In this free download, you'll get a better understanding of:
In-depth weekly and monthly demand numbers
Geopolitical events that affected prices at the pump
Impact of refinery issues on supply
And, at-a-glance data from 2007 to 2019 of:
Annual summer driving margins by region
Margins in the 1st half of the year versus the 2nd half
Quarterly margins by year
Retail margins during the summer-drive season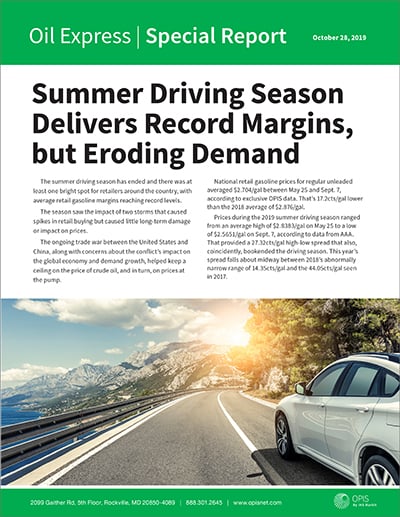 Share this free download with a colleague or friend!