Asia Refiners Cut VRDS Throughput as HSFO Fares Better Than VLSFO
March 31, 2020
Wider usage for high sulfur fuel oil (HSFO) relative to very low sulfur fuel oil (VLSFO) has pushed refiners to cut runs at their vacuum residue desulfurization (VRDS) units, some of which were built specifically to leverage on an expected demand surge due to the IMO 2020 mandate, industry sources said.
Since the start of the year VLSFO prices in Singapore have fallen over 62% since Jan. 2 to $235.118/mt on March 30 compared with a 49% decline to HSFO at $154.90/mt, according OPIS IHS Markit data.
While overall demand for marine fuels have dropped due to the coronavirus disease 2019 (COVID-19), HSFO has fared better due to limited supplies and its direct use as secondary refining unit feedstock, they said.
"The VLSFO price is not good and it is uneconomical to run a VRDS," said a trader. VRDS lowers the sulfur content of vacuum and atmospheric residue feedstocks that are then fed into crackers and also sold as low sulfur marine fuels.
The crack spread of free-on-board (FOB) Singapore 380 CST HSFO to Brent crude jumped to $1.13/bbl on March 30, the highest margin this year since IMO 2020 was implemented on Jan 1.
The IMO mandate calls for the use of marine fuels with sulfur content not exceeding of 0.5% on vessels not fitted with scrubbers.
"Given the strong HSFO market, it makes sense for refiners to reduce utilization of their VRDS to increase HSFO production," said Matthew Chew, principal oil analyst at IHS Markit.
The higher premium of heavy crude over lighter grades could also reduce the operational rates of VRDS, traders said.South Korea's SK Energy recently completed construction of its 40,000 b/d VRDS and is ready for commercial operations after a test run on March 14, SK Energy said in a press statement.
"But the VRDS run rate is not in full capacity due to market conditions because of the firm crack spreads of its high sulfur feedstocks, which the refinery has to adjust its feed inputs," a SK Energy spokesperson said. SK Energy declined to reveal the current run rate of its newly commissioned VRDS.
But the weakness in VLSFO will not stay long as arbitrage cargoes from west of Suez are closed and reduction in refinery run rates also will affect fresh supply, an analyst said. He expects operational rates of VRDS to pick up once demand for VLSFO improves.
--Reporting by Thomas Cho, Thomas.Cho@ihsmarkit.com;
--Editing by Raj Rajendran, Rajendran.Ramasamy@ihsmarkit.com
Copyright, Oil Price Information Service
---
Spot Market Bunker Buying Looking Good on Market Collapse
March 18, 2020
Shippers eager to lock in on very-low-sulfur fuel oil (VLSFO, 0.5%S) for 2020 looking to avoid what was initially thought to be in tight supply and of questionable specifications may be missing out on cheap fuel with the decline in the petroleum complex.
"That was the thought early on with the implementation of IMO," said one marine fuel expert. "Fixed price contracts for the new fuel alleviated a lot of uncertainty, right?"
Price certainty associated with contracts was all good until the coronavirus disease 2019 (COVID-19) rocked global demand and OPEC+ was unable to agree on production cuts and the ensuing flood of crude.
"In a falling market spot buying is definitely better than contract [buying]," said a buyer from a U.S. shipping company. "That said, there is the possibility of renegotiating contracts with suppliers. Most won't do that unless you are a very big player with large volume."
Shippers could guarantee a price and specification from a specific supplier in a port, basically securing fuel and a specification from that supplier using various mechanisms -- floating prices, average around loading dates, differential to swaps or other pricing mechanisms.
"Deals can be structured against something like LS gasoil futures," said the fuel oil consultant. "Then things equal out. But if you locked into a flat price for a specific time period, the buyer has to perform at the agreed upon price, which can be catastrophic."
Structured against a future price shows bunkers and products have moved nearly in tandem.
Front-month ICE Brent crude on Jan. 2 was $66.25/bbl. As of 10:50 a.m. ET Wednesday, the front-month Brent was $26.57/bbl, a decline of $59.9%.
Similarly, NYMEX front-month ULSD on Jan. 2 was 202.41cts/gal, while Wednesday's front-month value was at 97.85cts/gal, a drop of 51.7%. Houston VLSFO ex-wharf bunkers were assessed Tuesday at $260/mt compared with $642.50/mt at the start of January, down by 59.5%.
--Reporting by Tom Sosnowski, thomas.sosnowski@ihsmarkit.com;
--Editing by Eric Wieser, eric.wieser@ihsmarkit.com
Copyright, Oil Price Information Service
---
Rosneft Tenders to Sell Bunker Fuel From April to December
March 16, 2020
Russia's Rosneft is offering up to 1.9 million metric tons of fuel oil from its Tuapse refinery between April and December 2020, according to tender document published on the company's website.
Bids were due today, Monday, March 16 for delivery starting from April 1.
The delivery is for product with a maximum sulfur of 3%, RME180 and RMG380 quality, either FOB Tuapse, or another port on the Black Sea, according to the document.
Payments are to be made in euros. The Russian oil giant changed its payment conditions late last year, asking for payments in euros amid a flurry of sanctions by the U.S. related to Iran and Venezuelan dealing.
--Reporting by Paulina Lichwa-Garcia, paulina.lichwa-garcia@ihsmarkit.com;
--Editing by Paddy Gourlay, patrick.gourlay@ihsmarkit.com
Copyright, Oil Price Information Service
---
Singapore Sells Mostly Low Sulfur Marine Fuels in January
February 14, 2020
Singapore sold a total of 3.1885 million mt of low sulfur marine fuels comprising of low sulfur fuel oil (LSFO) and ultra-low sulfur fuel oil (ULSFO) for the month of January, according to the latest data from the Maritime Port Authority of Singapore (MPA).
This as shipowners without scrubbers switched to marine fuels with sulfur level not exceeding 0.5% from January 1 as mandated by the International Maritime Organization. This makes up close to 71% of total sales volume, which amounted to 4.5147 million mt.
Majority of IMO compliant fuels were 380 CST LSFO, where sale volume for January was 2.2183 million mt, followed by 681,700 mt of 100 CST LSFO and 211,000 mt of 180 CST LSFO. Overall, LSFO sale volume for January was 3.111 million mt as compared to 2.6303 million mt in December.
"We saw more demand and enquiries for IMO compliant fuels in January as owners feared there were not enough supply of very low sulfur fuel oil (VLSFO) also known as 0.5% sulfur LSFO," said Vignesh M, bunker trader at Ocean Energy Supply Singapore.
But the uptick sale of low sulfur marine gasoil (LSMGO) with sulfur level of 0.1% continues to be slow. Only 445,900 mt of LSMGO were sold in January, slightly up from 407,300 mt in December.
"With the lower premiums of VLSFO due to weaker bunker demand and sentiments owing to the corona virus, formally known as Covid-19 impact, this could reduce the economics of switching to MGO in Feb. and March," said Matthew Chew, principal oil analyst at IHS Markit.
However, Chew believes MGO uptake could go up in second half year of 2020 as Covid-19 impact subsides and trade activities resume as a result of tighter supply in the VLSFO market.
Demand for high sulfur marine fuels suffered a drastic decline, where 380 CST marine fuel oil sale was 632,300 mt in January, far lower than 1.164 million mt sold in December.
Market analysts said that the fall could be due to some shipowners still actively using high sulfur marine fuels in the last few weeks of December before the changeover.
--Reporting by Thomas Cho, (Thomas.Cho@ihsmarkit.com),
--Editing by Raj Rajendran, (Rajendran.Ramasamy@ihsmarkit.com)
Copyright, Oil Price Information Service
---
Bunkering in China Affected by Virus, Vessels Avoid Ports on Quarantine Fear
February 12, 2020
Bunkering activities in China were dented amid the spread of the coronavirus, formally known as COVID-19, as the nation seeks to become an international bunkering hub, analysts said.
Vessels try to avoid visiting Chinese ports for marine fuel refueling or have charterers declare force majeure on bunkers to be lifted, they said.
"Shipowners and operators fear that their vessels could face a 14-day quarantine period, if they call at a port which imposes these restrictions and especially so with sea passage that are days fewer than the required quarantine period," said Justin Tan, category manager, Marine Fuels and Hedging at China Navigation Co.
Maritime authorities in Singapore, Bahamas, Cyprus, Hong Kong and Liberia have issued circulars on minimizing the risks of COVID-19 spreading to seafarers, passengers and others on board ships.
Other ports like Palawan in the Philippines has issued a temporary ban of entry on anyone who has been to any part of China, including its special Administrative Regions, within 14 days prior to arrival at their port of entry from entering the province, port agency GAC said.
Ports throughout Australia have already barred vessels from berthing before a 14-day period from their last port of call was China.
Partial shutdown of China's eastern province of Zhejiang has also led to the suspension of marine fuel sales in the port of Ningbo and as well as disrupted sales in Zhoushan.
"Barges operating in Zhoushan are mostly from neighboring port of Ningbo or registered in Ningbo, which requires clearance and temperature checks on the operation crew," said a bunker supplier.
Bunker sales in China averaged around 1 million mt a month, analysts estimate.
China does not publish official bunker sales data. In Singapore, about 4.5 million mt of marine fuels were sold in December, according to the latest Maritime Port Authority of Singapore data.
Vessels that typically bunker in China are for long-haul voyages to the U.S. West Coast and South America, which take around 17 to 30 days.
--Reporting by Thomas Cho, Thomas.Cho@ihsmarkit.com
--Editing by Raj Rajendran, Rajendran.Ramasamy@ihsmarkit.com
Copyright, Oil Price Information Service
---
---
Vessels Face Bunker Delivery Delays in Zhoushan After Mandated Holiday
February 10, 2020
Chinese bunker suppliers are facing delays in delivering marine fuels to vessels in Zhoushan due to a shortage of customs officials following an extended Lunar New Year holiday due to the coronavirus, according to several suppliers and shipowners.
The bunkering port is located in Zhejiang province, where the municipal administration announced on Jan. 27 that it was delaying workers from returning to their offices to Feb. 9 in an effort to combat the spreading virus.
"Chinese bunker suppliers always need custom clearance papers to fill and clear, which resulted in some vessels sailing off before refueling," said a shipowner.
Some bunker suppliers also stated that their problems were further aggravated as operational staff on board barges from Ningbo have to undergo temperature checks before entering Zhoushan ports to deliver marine fuels to vessels.
"This could take a few days for barges to get clearance but definitely less than the 14 days quarantine period," a bunker supplier said. One shipowner said some of the bunkering supplies to Zhoushan have been affected and vessels have gone elsewhere to refuel.
A U.S. supplier and a European trader may have placed vessels on subjects to ship back very low sulfur fuel oil (VLSFO) from Zhoushan to Singapore as demand for bunker fuel in Zhoushan could suffer due to these operational issues, according to analysts.
All bunkering activities in the neighboring Ningbo terminal were halted as Ningbo and Taizhou areas are designated as novel coronavirus epidemic areas, market participants said.
--Reporting by Thomas Cho, (Thomas.Cho@ihsmarkit.com)
--Editing by Raj Rajendran, Rajendran.Ramasamy@ihsmarkit.co
Copyright, Oil Price Information Service
Vessels Find VLSFO Hard to Come by in Some Areas
February 7, 2020
Tankers and cargo ships were still having trouble getting very-low-sulfur fuel oil (VLSFO) in certain ports and areas around the world, according to fuel oil non-availability reports filed with the International Maritime Organization (IMO).
One of the latest incidents involved the crude oil tanker Princess Alexia, which was sailing to Basrah, Iraq from South Korea and was looking to refuel while transiting Singapore. The tanker left the port of Yosu, South Korea on Jan. 27 and was expected to be Iraq by mid-Feb.
The report shows agents for the Princess Alexia on Jan. 27 contacted three bunker supply companies in Singapore for a compliant fuel delivery in the areas of Linggi, Port Klang or Eastern Outside Port Limits (EOPL) of Singapore. The bunker fuel supply companies contacted included BMS United Bunkers, Island Oil (Hellas) Limited and KPI Bridge Oil, the report shows.
However, all three bunker companies responded that they could not provide compliant fuel because of either tight deadlines or no avails, the report notes.
"For Linggi Malaysia anchorage or EOPL our local sources cannot accommodate on this occasion," said one response. "Regret but no avails due to tight dates at EOPL; NOT at all at Linggi or Port Klang," said another.
The ship continued to sail through the Singapore region and noted that it planned to obtain compliant fuel at Fujairah either before or after loading its cargo at the port of Basrah, Iraq.
A second incident recently filed with the IMO involved the cargo tanker MV Aqua Crystal, which was trying to obtain compliant bunker fuel in Chile.
The vessel arrived in the Chilean port of Guaycan around mid-November to load a partial cargo and was then on order to head for port of Huasco. The vessel originally expected to leave Chilean water before the end of 2019, which it could then burn off any non-complaint fuel onboard before the new year started, the report notes.
However, delays forced the ship remain in port of Huasco into the new year and therefore it had to look for compliant fuel with no luck because of no avails, said the report.
"We are constantly checking and will stem sufficient compliant fuel in Callao, Peru in order safely to reach Balboa, Panama," the report notes. "Additional compliant fuel will be stemmed in Balboa, Panama, where the about 1250 mt [of] non-compliant HSFO ROB are expected to be de-bunkered in order not to have any HSFO ROB prior the carriage ban date being 1st Mar 2020."
There are more than 30 non-availability of compliant fuel oil reports filed with the IMO since the start of the year.
--Reporting by Eric Wieser, eric.wieser@ihsmarkit.com
--Editing by Tom Sosnowski, thomas.sosnowski@ihsmarkit.com
Copyright, Oil Price Information Service
Analysis: Houston VLSFO Sinks More Than $155/mt in January
February 3, 2020

Houston very-low-sulfur bunker fuel lost $155.50/mt, or 24.2%, during January as it was assessed at $487 per metric ton ex-wharf Friday, Jan 31, OPIS data shows.
On Jan. 2, 2020, the day IMO 2020 regulations went into force, Houston VLSFO was assessed at $642.50/mtw.
For the month, Houston VLSFO bunkers averaged $566.57/mtw.
Bulk traded VLSFO dropped by $141.14/mt, or about $21/bbl, through the course of January and averaged $527.91/mt ($78.77/bbl). That is a decrease of 23.6%.
Friday's bulk VLSFO premium at Brent in Houston was $9.62/bbl. That premium ranged from a high of $22.82/bbl on Jan. 6 to a low of $9.31 on Jan. 30.
Several factors collided to create downward pressure on the fuel, including the sinking petroleum complex, due in a large part to the coronavirus, but also the bunker market finding the fuel to be well supplied with useable fuel.
"The recent outbreak [coronavirus] aside, I think the bunker market has found that fuel is available, and the uncertainty of varying specifications has not fazed the market," one Gulf Coast bunker supplier said. "It's like a runup to an event, a hurricane or snowstorm, will there be gasoline? Will there be bread and milk? When the initial panic subsides, markets find their proper [pricing] levels.
"We have not heard of ships dead in the water due to using [0.5%S fuel]," he continued. "There were extremists predicting dead ships dotting the seas."
The supplier couched his statements by said that going forward, when blending expanded, there could be some off-spec materials that could cause operational upsets.
As far as a collapsing petroleum complex, March Brent crude saw a drop of about $8/bbl, or about 12%, though January, while NYMEX front-month diesel fell about 40cts/gal, or the equivalent of about $125/mt. That is a decrease of 19.7%.
Comparatively, marine gasoil in Houston was assessed Friday at $520/mtw, $157.50/mtw below its value on Jan. 2.
High-sulfur fuel oil, in both the bunker and bulk segments, remained somewhat stable throughout the month as its growing use as a feedstock, as well as its typical non-marine use outlets of coking and power generation.
Friday's OPIS assessment of Houston 380 CST bunker fuel at $353/mtw was only $12/mt lower from the Jan. 2 assessment.
On the bulk side, HSFO in Houston lost $30.80/mt ($4.85/bbl) Jan.2-31.
--Reporting by Tom Sosnowski, thomas.sosnowski@ihsmarkit.com
--Editing by Eric Wieser, eric.wieser@ihsmarkit.com
Copyright, Oil Price Information Service
China Refiners to Boost VLSFO, Favor Heavier Crudes After Tax Rebate
January 23, 2020
Refiners in China will likely tweak their crude and product slates in the wake of a government decision to encourage local marine bunker sales by reimbursing taxes, industry sources said, adding that this is also expected to reduce fuel oil imports from Singapore.
Chinese refiners have traditionally stayed away from the marine bunker business because of hefty taxes, and more recently used imported 0.5% very low sulfur fuel oil (VLSFO) to meet shipping industry needs for cleaner burning fuels.
However, Beijing on Wednesday announced that the government will reimburse the 13% value-added tax (VAT) on low sulfur marine fuels supplied to international vessels from bonded warehouses, which opens up a new and viable business for local refiners, the sources said.
The government is also expected to scrap a CNY 1,218/mt ($173/mt) consumption tax on VLSFO to promote the local bunker industry, as ports around the world vie for a piece of the new market following the International Maritime Organization's mandate to use the cleaner burning fuel since January 1.
The move is a boon for medium-to-heavy crudes as refiners in China seek to raise VLSFO output and may also prop up sagging gasoil and gasoline margins as fluid catalytic cracker (FCC) and residue fluid catalytic cracker (RFCC) run rates are trimmed, the sources said.
"Provided VLSFO cracks remain attractive, NOCs (national oil companies) may start re-optimizing FCC/RFCC operations and direct more LSVGO (low sulfur vacuum gasoil) into the VLSFO pool on favorable economics," said Chen Jiyao, oil consultant at FGE in Singapore.
"This will offer some indirect support to domestic gasoline cracks," he added, as gasoline supply is reduced by the lower FCC/RFCC runs.
In the benchmark Singapore market, expectations of reduced VLSFO demand from China and increased gasoil blending into the bunker fuel pool flipped the relationship between the two oil products, traders said.
The February spread between VLSFO and 10ppm gasoil - or 5GO as it is known in the market - closed at a discount of $9/mt on Wednesday, reversing the premium of $2.032/mt at 4:30 pm on the Singapore afternoon online market.
The February 5GO discount widened further to minus $10.50/mt on Thursday morning, according to a fuel oil broker.
OPIS IHS Markit assessed bulk 0.5% VLSFO at $581.935/mt versus 10ppm gasoil at $561.95/mt on Wednesday.
"But how much VLSFO Chinese refiners are willing to produce will still be dependent on the relative production economics of VLSFO against other refined products, said Fenglei Shi, associate director of China Oil Markets at IHS Markit in Beijing.
"This is in turn linked to a wide array of dynamic factors, including but not limited to the light-heavy crude price differentials and China's domestic demand growth for transport fuels."
Crude traders said that the move will increase China's demand for grades that yield a greater volume of residues and heavy distillates.
One factor that's already in their favor is the discovery of the North Sea's biggest oil field in decades, Johan Sverdrup. The crude, which has been available since end October, is a favorite among Chinese refiners because of its medium-density and medium-sulfur.
Johan Sverdrup has 28 API and 0.8% sulfur and another North Sea blend that's also quickly gaining market share in China is Grane with an API of 29 and sulfur content of 0.59%, they said.
"Johan Sverdrup is a good one, but those West African (WAF) and Brazilian medium/heavy sweets should also be supported," said one source.
Swing WAF grades - including Mostarda, Saturno and Gindungo - could also get a bump, especially after recent production outages at Libya which took out supplies of sweet blends, according to crude oil sources.
Where possible, China will also increase its purchases of U.S. heavier grades such Alaskan North Slope (ANS), Thunder Horse and Mars but the bulk of its commitments to buy more U.S. crude will be made up of light-sweet blends, they said.
Some Chinese bunker suppliers said Beijing could allocate around 24 million mt of VLSFO export quota to the four state-owned Chinese refineries, which would lead to changes in their current product slate in favor of residues, and against gasoline and gasoil depending on economics.
Beijing is expected to hand out permits totaling 10 million mt to Sinopec, 6 million mt to Petrochina, 5 million mt to CNOOC and 3 million mt Sinochem.
These companies had earlier said that they would be able to produce such volumes but industry sources noted that they have not done so as the refiners were waiting for the government to change its tax regime on marine fuels.
China imported 152,954 mt of fuel oil from Singapore in November 2019, down slightly from 186,697mt in October last year, according to customs data. But once local refiners boost their VLSFO output, much of these will be substituted with domestic barrels, traders said.


--Reporting by Thomas Cho, (Thomas.Cho@ihsmarkit.com)
--Reporting by Raj Rajendran, (Rajendran.Ramasamy@ihsmarkit.com)
--Editing by Carrie Ho, (Carrie.Ho@ihsmarkit.com)
Copyright, Oil Price Information Service
---
Beijing Approves VAT Rebate On Bunker Fuel
January 22, 2020
China has approved a long-awaited rebate in value added tax (VAT) on bunker fuel sales, the Ministry of Finance confirmed today on its website, although there was no mention of the expected removal on consumption tax.
The move will allow expanding Chinese refiners to capitalize on sales and exports of marine fuels to the international market.
The current consumption tax of CNY1,218/metric tons, or $173.40/tons, on bunker fuel was not included.
But some analysts expect this tax will also be removed on sales of very low sulfur fuel oil (VLSFO) along with the VAT rebate.
"China is not short of spare capacity for it to raise production of low-sulfur bunker fuels, including low-sulfur marine gasoil (LSMGO) and very low-sulfur fuel oil (VLSFO), and the government's long-awaited decision to rebate taxes on fuel oil exports is likely to remove one of the biggest obstacle for eligible companies to directly supply China's own international bunker market instead of importing from Singapore," Fenglei Shi, Associate Director of China Oil Markets, at IHSMarkit, said.
The rebate will come into force on February 1, allowing suppliers to recoup 13% of VAT on non-domestic sales of bunker fuel from bonded warehouses.
Beijing is also expected to allocate annual export quotas of marine fuels to four state-owned Chines refineries following the announcement, with 10 million metric tons to Sinopec, 6 million tons to Petrochina, 5 million tons to China National Offshore Oil Corporation(CNOOC)and 3 million tons to Sinochem.
-- Thomas Cho thomas.cho@ihsmarkit.com
-- Edited Paddy Gourlay patrick.gourlay@ihsmarkit.com
Copyright, Oil Price Information Service
---
LSFO Dominates Bunker Sales in Singapore, Shows Shipowner Preference
January 14, 2019
Low sulfur fuel oil (LSFO) has emerged as the marine fuel of choice in Singapore, the world's largest bunker port, as the shipping industry adheres to IMO 2020 rules, latest data from the Maritime Port Authority of Singapore (MPA) show.
There was close to a 60% jump in total LSFO sales in December at 2.63 million mt compared with 1.65 million mt in November, as it even overtook high sulfur fuel oil (HSFO), the traditional mainstay of the bunker market, for the first time, the data showed.
Total sales of HSFO, including 180 CST, 380 CST and 500 CST, fell to 1.27 million mt in December compared with 1.89 million mt in November. Marine gasoil (MGO) sales were a fraction of these as forecasts of it featuring strongly in the bunker market have yet to materialize.
"0.5% LSFO is the preferred choice for vessel operators owing to ease of operation and change over, there's no need to modify lubes, fuel injection system, fuel pumps and the seals, etc.," said Matthew Chew, principal oil analyst at IHS Markit.
The International Maritime Organization (IMO) mandated that from Jan. 1 all vessels would have to burn marine fuels with a sulfur limit of 0.5% if they are not equipped with scrubbers. Previously ships used 3.5% sulfur HSFO as the main bunker fuel.
The data also showed that shipowners still prefer higher viscosity 380 CST LSFO, where Dec sales totaled 2.25 million mt compared with 378,300 mt for 180 CST LSFO.
Overall bunker sales in Singapore, however, slipped as global trading slowed in the face of the China-U.S. trade war.
Turnover in the world's biggest ship refueling hub slipped to a four-year low last year at 47.46 million mt compared with 49.8 million mt in 2018. December sales ticked up to 4.47 million mt versus 4.08 million mt in November, according to MPA data.
Even though delivered 0.5% MGO was offered at below 0.5% LSFO prices, it failed to gain traction.
Sales in December only picked up slightly to 89,500 mt from 56,200 mt in November, while 0.1% low sulfur MGO increased to 407,300 mt up from 374,400 mt, the data showed.
"However, this is still upside to gasoil market once the 0.5% LSFO inventory draws down, resulting in pull for MGO and eventually supporting the gasoil market," Chew said.
Delivered Singapore prices for 0.5% LSFO was at $685/mt, LSMGO at $680/mt and 380 CST MFO at $378/mt, according to OPIS Global Marine Fuels report dated January 13.
At these prices, LSFO is the highest priced oil product in the benchmark Singapore market.
-- Reporting by Thomas Cho, Thomas.Cho@ihsmarkit.com
-- Editing by Raj Rajendran, Rajendran.Ramasamy@ihsmarkit.com
Copyright, Oil Price Information Service
---
Asia Gasoil Margins Slow to Benefit From Cleaner Shipping Fuel Standard
November 14, 2019
An anticipated boost to Asia gasoil margins brought on by the upcoming tighter shipping fuel standards has so far failed to materialize less than two months before the changes are due to take place.
The global International Maritime Organization's (IMO) mandate to lower marine fuels sulfur content to 0.5% from 3.5% will take effect on Jan 1, 2020, a change that would force refiners to increasingly produce marine fuels from middle distillates rather than just fuel oil.
With Singapore, the world's top bunkering port, selling 47-48 million mt of marine fuel oil a year, the switch was widely anticipated to lift gasoil refining margins.
The gasoil crack spread has, however, been declining as the new year approaches. The Singapore gasoil premium to Dubai crude was assessed at $14.22/bbl on Wednesday, the lowest in five months, according to OPIS data. The spread was sharply higher at $18.05/bbl a year ago.
Ample regional supply was a key factor depressing margins, traders said. Around 1.3 million b/d of new refining capacity are expected to come online in Asia and the Middle East between Oct. 2019 and June 2020, adding to gasoil supply.
Poor domestic demand also led to an export surge from India, which shipped 3.48 million mt of diesel in September, the highest at least eight years. India's monthly diesel exports averaged just 2.21 million mt from January to August this year.
With refineries still to return from upgrading works, India 's gasoil exports would likely remain at 3 million mt or higher in the coming months, an India-based trader said.
Expectations for a massive switch from marine fuel oil to marine gasoil in the short term might have been overblown, market sources said. Fuel oil traders in Asia began stocking up on low sulfur marine fuel oil components since early this year, resulting in a slew of tankers being used as floating storage for these components.
At least 45 tankers carrying close to 10 million mt of mostly residual fuels were in Singapore and Malaysian waters as of early-November, according to oil shipbrokers.
Another 20.355 million bbl are in Singapore's onshore tanks as of this week, that around 30% more than a year ago, according to data from Enterprise Singapore.
The economics of producing low-sulfur marine fuel from fuel oil or gasoil vary from company to company but the former is probably still an attractive option to some producers, especially if fuel oil costs are much less than gasoil, a market source said.
Singapore 380CST HSFO was assessed at a $334.40/mt discount to 10ppm sulfur gasoil on Wednesday, sharply wider than the $102/mt discount on Jan. 2, according to OPIS data.
Recent sales of 0.5% sulfur marine fuel oil also reflected a widening spread between low sulfur fuel oil and gasoil that should be attractive to buyers.
Taiwanese state-owned refiner CPC sold last week 40,000 mt of 0.5% low sulfur bunker grade fuel oil loading in December from Kaohsiung at around a $74/mt discount to Singapore 10ppm sulfur gasoil.
A month ago, South Korea's S-Oil sold 20,000mt of fuel oil of similar quality for October-loading from Onsan at a $30/mt discount, market sources said.
Uncertainties, however, still abound in the nascent 0.5% sulfur marine fuels market. Concerns over the usability, stability and mixability of different types of fuels remain, which might encourage shipowners to use marine gasoil instead.
"We estimate that about 60-70% of the low sulfur marine fuels used next year will be marine gasoil as the industry is already using this product, they are confident of its quality and its readily available globally," said Matthew Chew, principal downstream analyst at IHS Markit in Singapore.
Spot and term deals for marine fuels are also being done on different pricing basis using either fuel oil or gasoil assessments. Depending on the price spreads, suppliers might be incentivized to produce low sulfur marine fuel from fuel oil and sell them using gasoil as the pricing basis.
Forward markets on Thursday suggest low sulfur fuel oil and gasoil supplies could remain ample in the very short term. The Singapore gasoil market is in a slight monthly backwardation of only $0.05-$0.10/bbl from January to March while the low sulfur fuel oil market is in a contango of $1-$2.75/mt over the same period.
-- Hanwei Wu, Hanwei.Wu@ihsmarkit.com
-- Thomas Cho, Thomas.cho@ihsmarkit.com
Copyright, Oil Price Information Service
---
Uncertainties Dominate Asian Refining Outlook Going Into Peak Winter Season
November 13, 2019
Asian refiners face a tricky end to the year as they bank on IMO 2020 and winter to boost oil product demand in the face of growing supplies from units resuming operations after maintenance and new ones cranking up runs, according to industry sources.
Bets are on for the International Maritime Organization's (IMO) mandate to use lower 0.5% sulfur marine fuels to draw huge amounts of middle distillates into the bunker pool as there aren't enough supplies of residue fuels to meet the new stricter sulfur threshold.
"We estimate that about 60-70% of the low sulfur marine fuels used next year will be marine gasoil as the industry is already using this product, they are confident of its quality and its readily available globally," said Matthew Chew, principal downstream analyst at IHS Markit in Singapore.
This surge in IMO-led gasoil demand and seasonal heating fuels requirements should keep distillate cracks, which form the largest component of a refiner's margin, strong in the coming winter months, according to IHS Markit research.
However, some in the industry question if incremental distillate demand spurred by the IMO switch would be enough to soak up all the surplus barrels in the face of innovative blending by players that include heavy-sweet crude oil and products such as cycle oil and bitumen to create marine fuels that meet the 0.5% sulfur limit.
They also point to uncertainties over how much residue desulfurizer (RDS) capacity is available within the Asian refining system that could be cranked up to the maximum to produce more low-sulfur fuel oil (LSFO) instead of using gasoil, which typically is more expensive.
Expectations of a seasonal spike in winter heating demand among Northeast Asian countries have so far been tempered by warmer weather. Forecasts are for the unseasonably high temperatures to remain for the rest November and much of December, according to AccuWeather data.
Refining capacity that will be out for maintenance, including unannounced closures, in November shrank to 1.731 million barrels a day (b/d) down sharply from 2.237 million b/d in October, according to the latest IHS Markit outlook for Asia and the Middle East.
Turnarounds in December are forecast to shrink to a paltry 510,000 b/d just head of the expected January surge in lower sulfur fuels. Announced maintenance in January was at a tiny 88,000 b/d but IHS Markit estimates unannounced closures to reach 759,000 b/d based on historical data.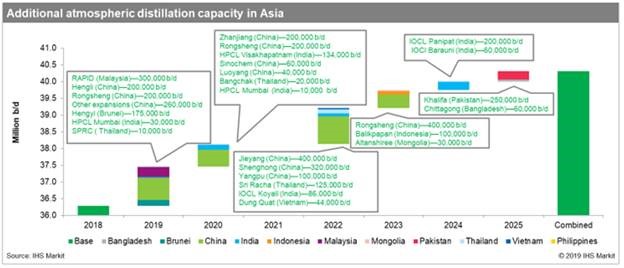 In addition to the high utilization rate, the year-end will also see several new refineries cranking up runs and optimizing secondary units.
Among these are Hengli in China with 200,000 b/d and Hengyi in Brunei with 175,000 b/d crude distillation units, both of which started earlier this year and are now ramping up all their units to full capacity.
The Saudi Aramco and Petronas joint venture Malaysian refinery in Pengerang is still struggling to reach its full 300,000 b/d capacity after a fire in April severely damaged an atmospheric residue desulfurizer, which in turn reduced runs at a key 140,000 b/d residue fluid catalytic cracker.
This facility will only reach full output in the second or third quarter of next year, sources said earlier.
Another mega refinery that is also slowly raising its output is the 200,000 b/d Rongsheng refinery with full rates expected around the second quarter.
These new refining capacities in Asia look to be coming onstream at a time of new crude oil sources that is putting a cap on prices even as sanctions against Iran and Venezuela trimmed the supply of heavy sour barrels.
Traders said Asian refiners got a scare in September after freight rates soared to double and even triple in some cases after a trio of shocks to the shipping industry within the space of weeks.
First after the missile and drone attack on Saudi oil facilities, followed by U.S. sanctions against six Chinese shipping companies, including two Cosco units, for transporting Iranian oil and finally oil companies such as Exxon refusing to use tankers that have called on Venezuelan ports in the past year.
Tanker rates have since dropped back to about 30-40% above the levels prior to these incidents, which have re-opened long-haul and spot arbitrage flows from as far away as the U.S. Gulf Coast, Canadian east coast, Russian Baltic and the North Sea.
"The arbitrage is open again, shipping cost is not a big factor anymore and we can source our barrels from most places again," said one crude trader.
The other cuts of the barrels appear to be well supported with naphtha holding its own on the back of shortfalls of exports from Saudi Arabia following the Sept. 14 attacks and renewed demand from splitter operators in place of more costly condensates.
"Gasoline cracks are climbing because some refiners are scaling back fluid catalytic cracker (FCC) runs and diverting the feed to the bunker pool," Chew said.
He said the economics allow refiners, that have RDS capacity, to bring down the sulfur content of the FCC feeds before selling them as marine fuels.
However, one other unanswered big question is the fate of unused high sulfur fuel oil (HSFO) after sales as bunkers and used within the refining system as feedstock. There are fears that refiners may take a big hit from this if the fuel is eventually only used for its thermal properties, the sources said.
HSFO prices have plunged as the market gets closer to the January IMO deadline with the crack forecast to tumble to $30/bbl below Dubai crude in next March/April from the current minus $20-$22/bbl, according to IHS Markit estimates.
Consequently, the focus is back on the product market, which typically going into winter would be buoyant but somehow this year there are some trepidation mostly due to the new refining capacities, warmer weather forecasts and uncertainties over IMO-led distillate demand.
-- Raj Rajendran, Rajendran.Ramasamy@ihsmarkit.com
Copyright, Oil Price Information Service
---
Analysis: IMO 2020 -- Where Does LPG Factor as a Bunker Fuel?
October 1, 2019
A growing roll call of tanker owners has been gearing their fleets towards meeting the IMO 2020 low-sulfur bunker rules -- using either the newer VLSFO (very-low-sulfur fuel oil) or fitting scrubbers into the exhaust stacks to handle existing fuel. With less than 100 days to go, the pace of tanker newbuilds and conversions to meet the new rules appears to be accelerating.
However, one fuel has been largely overlooked by many -- that fuel is liquified petroleum gas, or propane and butane. A few owners in the VLGC (Very Large Gas Carrier) sector have taken the plunge, deciding to opt for powering their ships with the same fuel they transport and ordering LPG-fueled newbuildings.
Currently, no VLGCs on the water are running LPG in their engines, though between six and 10 VLGC newbuildings are understood to be under construction to run the light gas liquid fuel.
Typically, a VLGC will run anywhere between 40-45 tons/day of IFO380, the standard fuel for such vessels. The range of consumption depends on whether they slot into the recent class of more modern "eco" design VLGCs, or slightly older generation units.
To run LPG as the main engine fuel, industry experts suggests similar consumption figures for the vessels, compared to currently used fuel oil.
Though comparatively specialized, gas carriers carrying the same cargo as the fuel highlights a secondary issue, that of available bunkering. Of course, loading and discharging at LPG terminals would enable the large ships ready access to LPG, should they require it for their engines.
A look at existing fuel oil bunkering points around the globe suggests fueling or bunkering with LPG may not be so big an issue, as many have access to local sources of LPG.
Key bunkering points for gas carriers include Houston, the ARA (Amsterdam-Rotterdam-Antwerp) region, Algeciras (Gibraltar), Dubai and Singapore. With the possible exception of Algeciras, LPG is known to be readily available at all these points, though Algeciras lies just across the water from the largest exporter of LPG in the Mediterranean -- Algeria.
Will propane meet the new sulfur limit? Easily, is the short answer. The new IMO 2020 regulations will require ships to run on VLSFO from January 2020, or fit sulfur capture technology in the exhaust stacks. The new maximum sulfur content will be 5,000 ppm. Typical sulfur content of LPG, containing even the highest amounts of sulfur -- usually refinery grades -- has been seen at a high of 120-150 ppm, while field-grade material -- the majority -- runs at a fraction of this.
Then there is the price differential for running, for example, propane in place of IFO380. The shale gas revolution in the U.S. and gas-related projects globally have pushed worldwide LPG production to over 310 million tons per year, with most of the new volumes originating in the U.S. Just under a third of this moves by sea, with U.S. exports set to increase. This in turn has driven down the price of propane, which has fallen to 35% to WTI crude in September 2019, compared to 48% in the same month just five years ago. By comparison, the price of IFO380 in Houston was an average 116% to WTI this September -- though local bunker operators are understood to be reducing the availability of tank space to make way for the new VLSFO, tightening the IFO380 market for the time being.
Then there is the technical side. Producing an LPG carrier to run LPG as bunkers would require either constructing pressurized tanks inside the hull in place of the normal bunker tanks, or piping direct from the main fully refrigerated tanks via a reheater, assuming additional tons are factored into the cargo space. A third option is deck-mounted pressurized tanks -- though this is not a plausible alternative for retrofitting to all existing gas carriers, as only some vessels are suitable for the conversion. One major owner is understood to be taking this latter route for four VLGCs out of its fleet.
Only time will tell how many in this niche sector of the hydrocarbon business will decide to go down the road towards LPG as bunkers.
However, LPG supply is still growing. According to Edgar Ang, IHS Markit consulting analyst, 'As for U.S. production, it won't stop, can't stop ... 2020 will be more, but the growth curve slows compared to 2018-2019.'
--Dermot McGowan, dmcgowan@opisnet.com
--Tom Sosnowski, thomas.sosnowski@ihsmarkit.com
Copyright, Oil Price Information Service
---
Shipping Coalition Aims for Zero-Emissions Vessels Within a Decade
September 23, 2019
As the world prepares for new rules to clean up marine exhaust starting in January, a new group has launched an effort aimed at having a commercially viable zero emission vessels operating along deep sea trade routes within 10 years.
The Getting to Zero Coalition announced its efforts in conjunction with Monday's United Nations Climate Action Summit in New York. The coalition, which describes itself as "a powerful alliance representing senior leaders within the maritime, energy, infrastructure and finance sectors," said its project is aimed at helping the UN reach its target of cutting shipping industry greenhouse gas emissions by 50% of 2008 levels within 30 years.
"Decarbonizing maritime shipping is a huge task with no simple answer, but it has to be done," said Ben van Beurden, CEO of Royal Dutch Shell, which supports the coalition. "We intend to be part of the long-term, zero-carbon, solution by seeking out the most feasible technologies that can work at a global scale. Starting now is essential because ships built today will stay on the water for decades."
International shipping accounts for up to 3% of global greenhouse gas emissions annually, the group said. Emissions are projected to grow by 50% to 250% by 2050 if no action is taken, according to an announcement about the initiative.
The UN International Maritime Organization has mandated annual greenhouse gas emissions must be reduced by at least 50% of 2008 levels by 2050, with the ultimate goal of phasing them out completely as soon as possible.
The IMO has also mandated that ships reduce sulfur emissions in their exhaust starting in January. This means ships must either burn cleaner fuel or be fitted with exhaust gas cleaning systems, known as scrubbers, to remove sulfur particles.
The Getting to Zero Coalition is a partnership between the Global Maritime Forum, the Friends of Ocean Action and the World Economic Forum. The group says it is supported by more than 70 public and private organizations.
The coalition said its efforts are aimed at setting the stage for a wider decarbonization of world energy markets.
"If international shipping becomes a reliable source of demand for zero emission fuels ... this can increase confidence among suppliers and translate into an increased supply of feasible zero emission fuels and thus be an important point of leverage for change across other hard-to-abate sectors," the group said in its announcement. "The demand for zero emission fuels derived from renewable resources has the potential to drive substantial investment in clean energy projects in developing countries with a large untapped renewable energy potential."
--Steve Cronin, scronin@opisnet.com
Copyright, Oil Price Information Service
---
Trade in VLSFO Swaps Picking Up
August 22, 2019
Trade is picking up in the emerging very-low-sulfur fuel oil (VLSFO) swaps market as IMO 2020 approaches, Chris Hudson, Senior Broker, FIS Fuel Oil and Tanker derivatives, London, told OPIS in an interview today.
But the market is starting to split between different types of swaps.
The most-active swap is trading VLSFO barges in ARA as a differential to high-sulfur fuel oil (HSFO) barges.
But interest in trading VLSFO barges in ARA as a flat price has also picked up in August, especially to hedge Q4 2019 and Q1 2020 exposure, Hudson told OPIS.
Uncertainty over the amount of early switching to VLSFO could create a highly volatile market in the last three months of the year.
Fourth-quarter VLSFO paper was trading around $186/ton above HSFO paper yesterday, split between $167.50/ton in October, $191/ton in November and $206/ton in December.
But if HSFO demand is much stronger than expected over the fourth quarter, the spreads would narrow sharply.
"Some shipowners who have installed scrubbers are hedging against a potential collapse in the VLSFO/HSFO spread by selling it," Hudson said.
"If the spread does collapse, the shipowners want to be covered," Hudson said.
Refiners have also been selling the differential swap to lock in a margin.
There is a wide contango in the VLSFO paper over the next four months, with the spread between September and December currently trading around $26.50/ton.
Most of open interest of the differential between high-sulfur fuel oil and VLSFO is for calendar year 2020, where 140 lots are outstanding for barges on ICE.
FIS are using both CME and ICE as clearing houses.
The International Maritime Organization mandate requires that as of Jan. 1 ships must either switch from using high-sulfur fuel bunker fuel with 3.5% sulfur content to cleaner, very-low-sulfur fuel oil with only 0.5% sulfur unless they have scrubbing technology onboard to remove the sulfur from emissions.
--Nandita Lal, nlal@opisnet.com
Copyright, Oil Price Information Service
---
Minerva Bunkering Closes Los Angeles Office
Reported exclusively by OPIS Managing Editor, Americas Marine Fuels Tom Sosnowski on August 1, 2019.
Minerva Bunkering, a global physical supplier of marine fuels and a fully owned subsidiary of Mercuria Energy Group, closed its Los Angeles office on Wednesday, according to a bunker source with knowledge of the situation.
"The LA office is gone," the source said. "What I heard was basically they are going to continue to operate [in Los Angeles] from the New York office, but I am a little skeptical of that."
A person at Minerva in New York confirmed the office closure.
West Coast supply and trading manager Keith Richardson and marketer Ray Bacani are confirmed to no longer be with Minerva.
The Los Angeles operation is formerly part of Aegean Marine Petroleum Network, which was purchased by Minerva in April 2019 following voluntary Chapter 11 restructuring that commenced on Nov. 6, 2018.
Market speculation is that one reason for the departure from Los Angeles could be a result of Minerva losing its storage tanks. The company had moved its storage from Vopak to NuStar in Southern California about a year and a half ago, and apparently lost those two tanks as NuStar leased them to someone else for non-bunker storage.
The departure of Minerva in Los Angeles leaves just three major players in the market: Chevron, Peninsula and Chemoil.
--Tom Sosnowski, thomas.sosnowski@ihsmarkit.com
Copyright, Oil Price Information Service