Biofuels Industry Wary of Tech-Neutral Tax Credit Absent CI Model Changes
May 20, 2021
Alternative low-carbon fuel producers would receive tax credits for reaching net-zero emissions under a U.S. Senate bill introduced last month, but biofuel industry stakeholders are concerned they will find it difficult to reach that target by 2030 unless the government revises its count of the carbon intensity (CI) of their fuels to what they say would be a more accurate and lower number.
Under the Clean Energy for America Act, introduced by Senate Finance Committee Chairman Ron Wyden (D-Oregon) on April 21, tax breaks for fossil fuels would be replaced with a technology-neutral tax break for producers whose fuels have zero or negative carbon emissions.
The bill was introduced after the Biden administration set a target of cutting U.S. greenhouse gas (GHG) emissions by 50% from a 2005 baseline by 2030. And it would convert certain fuel-specific tax credits facing expiration in coming years into a tech-neutral framework that requires facilities to reach net zero by 2030 to qualify.
The on-again, off-again $1/gal biomass-based diesel blender's tax credit, for example, is set to expire in 2022. Under Wyden's bill, that credit would transition to the technology-neutral approach starting Jan. 1, 2023.
Kurt Kovarik, vice president of federal affairs for the National Biodiesel Board (NBB), said this timeline "could be a little bit aggressive, or a lot aggressive, dependent on the work that needs to be done to score the carbon intensity of fuels." He pointed to language within the bill that delegates CI measurements to the Environmental Protection Agency (EPA) and the Department of Treasury.
Producers of first-generation biofuels have made progress in reducing the GHG emissions of their product and say they can go lower still by taking actions that include working with farmers to reduce emissions associated with agriculture and making more use of carbon, capture and storage (CCS). While many are already taking steps in that direction, they believe a more accurate accounting of their fuels' current CI would make getting to net-zero somewhat easier.
The ethanol and biodiesel industries have for some time pressed the government to take a new look at the carbon reductions their fuels can provide, citing recent studies that have concluded the CI scores of ethanol and biodiesel are below levels portrayed in EPA's current models.
Kovarik said a recent in-house study out of NBB based on data from the U.S. Department of Energy (DOE) and Energy Information Administration (EIA) shows biodiesel has a CI score roughly 74% below conventional diesel. Yet under the EPA's lifecycle greenhouse gas (GHG) analysis from February 2020, biodiesel produced from soybean oil stocks was found to emit roughly 56% less carbon than conventional diesel.
And in late January, researchers at Harvard University, Tufts University and Environmental Health & Engineering, which reviewed existing life-cycle analyses for corn ethanol using updated modeling systems and data, said the average CI of corn-based ethanol is about 46% below that of gasoline. A study from DOE's Argonne National Laboratory (ANL) released earlier this month found that the CI score of corn ethanol fell from 58 gCO2e/MJ in 2005 to 45 gCO2e/MJ in 2019, a 23% reduction.
The biofuels industry and a few of its congressional champions have used the studies to urge the administration to revise federal models, and some feel the Wyden bill could be the impetus for it drive such a change.
Troy Bredenkamp, senior vice president for government and public affairs at the Renewable Fuels Association (RFA), an ethanol industry group, said the organization hopes senators consider more favorable estimates from DOE and the U.S. Department of Agriculture when establishing which emissions models to use.
"Currently, the bill leaves all of the modeling up to EPA and the Treasury, and, frankly, they are not exactly the right agencies to know all of the nuances and advancements down on the farm," Bredenkamp said.
He said DOE should be included in the modeling process, given that ANL's Greenhouse Gas and Regulated Emissions and Energy Use in Transportation (GREET) model is the "gold standard" for the modeling of fuels, while the USDA should be included because of its expertise in assessing lifecycle feedstock emissions.
Including both agencies in modeling decisions is something that "can be codified within the current structure (of the bill), or at least in the draft that we have seen," he added.
And while Kovarik shared RFA's opinion that the provisions within the bill on modeling should be altered, he added that doing so is likely to be a "long administrative process. At a minimum, there has to be some assurance that this is not just going to be a Treasury and EPA process of scoring fuels ... so we would hope that the language includes some reference to the expertise that exists in both USDA and DOE in terms of scoring biofuels."
And John Fuher, vice president of government affairs at ethanol industry trade group Growth Energy, said CI modeling is a key to whether to whether the organization can support Wyden's bill.
Though he said the "strongest component" in an ethanol plant's ability to reach net-zero would come from deploying CCS, Fuher said that "what is also really important in that conversation is what the carbon intensity of that ethanol looks like."
The bill has yet to be scheduled for a hearing before the Senate Committee on Finance.
At the same time, some lawmakers have begun to introduce bills that would extend the more traditional renewable fuel tax credits.
California Reps. Democrat Jim Costa and Republican David Valadoa on Tuesday introduced a bill that would extend the tax credits for biodiesel, renewable diesel, and alternative fuels through 2025.
Under the measure, the BTC would be reduced from $1 to 75cts in 2023. After 2023, the credit would fall to 50cts until it expired at the end of 2025.And the credit for alternative fuels would be similarly reduced from the current 50cts to 37.5cts in 2023. The credit would then drop to 25cts until it would end after 2025.
--Reporting by Patrick Newkumet, pnewkumet@opisnet.com;
--Editing by Jeff Barber, jbarber@opisnet.com
Copyright, Oil Price Information Service
---
US Supreme Court Grapples With Meaning of Small-Refinery Waiver 'Extension'
April 27, 2021
Sometimes skeptical U.S. Supreme Court justices on Tuesday grappled with whether the Renewable Fuel Standard (RFS) bars EPA from granting economic hardship waivers to small refineries that have failed to maintain an unbroken string of annual exemptions since the program began.
The court heard oral arguments in a refiners' appeal of a January 2020 10th U.S. Circuit Court of Appeals' ruling that voided three small-refinery exemptions (SREs) EPA granted HollyFrontier and CVR Energy for the 2017 compliance year.
The circuit court found EPA could not extend exemptions to any small refineries whose earlier exemptions had lapsed, and none of the three refineries consistently received waivers in the years preceding their requests for the 2017 exemptions.
The refiners appealed the ruling to the Supreme Court in September, and the court in January agreed to review the lower court's decision.
Peter Keisler, an attorney representing the refiners, told the high court that Congress did not intend to prevent small refineries that were able to meet their RFS obligations in one year from receiving relief in the next year if their economic circumstances make it impossible to comply with the program.
The renewable fuel industry's argument that EPA can only extend existing exemptions doesn't make sense, Keisler said, because the RFS is designed to increase the volumetric biofuel use each year, "increasing the burden on small refiners."
The RFS statute, he said, increases the compliance obligation over time and it's "implausible to think that Congress would require a small refinery that satisfied its compliance obligation one year, wouldn't need relief in following years."
The law's SRE language, Keisler continued, offers small refiners a "safety valve" for years when compliance would cause significant economic harm. "It seems implausible to think an early ability to comply would mean there's no need for relief in the future."
A number of the justices asked how something that had lapsed could be extended.
"Suppose I rented an apartment five years ago, then decided to give it up ...then wanted to move back," Justice Elena Kagan said. "I call my landlord and say I want an extension of my lease. What would the landlord say?"
"I think he would scratch his or her head," Keisler replied, but said the "more apt comparison" is to look to how Congress has used the word "extended" in other programs that have lapsed then resumed.
Justice Brett Kavanaugh, however, suggested the definition of "extended" is not always clear cut, citing an instance where a professional athlete's contract expires at the end of a season, a new contract is signed during the offseason, and the team announces that the contract has been extended.
Keisler also argued that language in the RFS statute that says a small refiner may apply for a hardship exemption "at any time" shows that Congress did not intend to require that eligible refiners maintain a continuous string of waivers.
"So, there's a small refinery and let's say that its initial exemption ended in 2011, and since then, it's been able to meet its renewable fuel obligations and continues to do so for decades," Kagan said. "And then 30 years later, it runs into problems and it files a hardship petition. Are you saying in this context it's more an ordinary use of the word 'extension' to say that after that 30-year lapse, the small refinery gets its extension?"
We would, Keisler said, adding that even that "extreme example" is more in keeping with the statutory purposes of allowing small refineries to petition for relief at any time.
Christopher Michel, a U.S. Department of Justice attorney, told the court that the government believes the extension language of the RFS statute is "straightforward -- if a small refinery has an exemption ... it can obtain an extension. EPA cannot grant something that does not exist."
The "at any time" language, he said, means a small refiner can "ask for an extension of the exemption at any time, but that doesn't define what an extension of the exemption is."
While Michel conceded that the language is not "unambiguous," he told the court that it is "clearly the more ordinary use" of the word 'extended,'" adding that the court in previous decisions has said it will apply the ordinary meaning of a statute unless there's a good reason not to. "And we think there's no good reason not to here."
Michel also told the court that small refiners' arguments that limiting their ability to secure SREs could threaten their existence are overblown, saying EPA has found RFS compliance costs are priced into the market for refined fuels.
"I suppose, at the end of the day, if 15 years later there were one or two small refineries that couldn't comply because they couldn't find a way ... I think that Congress would have accepted that outcome because it was trying to change the fuel supply," he said. "But I don't think that's going to happen, in part because of the other safeguards that Congress wrote into the program."
Matthew Morrison, an attorney representing the renewable fuel groups that filed the 10th Circuit suit, said studies that found small refiners are able to recover most of their compliance costs in what they charge customers were not available to Congress in 2005 and 2007, when the RFS and RFS2 were enacted.
"And I think that's part of the reason why ... you actually have this exemption on the books."
Keisler, however, pushed back on those arguments, saying small refiners can't simply recover their RFS compliance costs by raising prices. In SRE petitions to the EPA, refiners have shown their margins "in many cases" are zero or negative once the program costs are included.
"But we don't want the court to decide as a factual matter whether we can pass through those costs or not. We're just asking the EPA to look at that evidence as part of our submission.
"But, of course, they won't if, for this entirely irrelevant issue of continuity, they don't get to consider our applications at all. And the issue of continuity doesn't depend on whether we're right or they're right about whether or not these costs can be passed through."
--Reporting by Jeff Barber, jbarber@opisnet.com;
--Editing by Jordan Godwin, jgodwin@opisnet.com
Copyright, Oil Price Information Service
---
Ethanol Groups Back EPA E15 Labeling Plan; Oil Groups, States Urge Caution
April 21, 2021
U.S. EPA's proposal to eliminate or modify the E15 warning label affixed to retail pumps drew support this week from three major ethanol trade groups, which have long argued that the current sticker discourages motorists from using the higher ethanol blend, while oil industry groups and some state regulators advised the U.S. agency to take a more cautious approach to minimize the risk of misfuelling.
The agency in January invited public comment on whether the E15 label should be changed or removed and whether state and local governments should be prevented from requiring different labels on fuel dispensers. EPA also proposed to modify underground storage tank system (UST) regulations to make it easier for retailers to demonstrate their existing systems can handle E15 and establish requirements for new UST installations or component replacements that would ensure they are compatible with higher ethanol blends. The comment period closed Monday.
The proposal comes after EPA in June 2019 lifted restrictions on the sale of E15 during the summer driving season, a move that has encouraged more retailers to begin selling the blend. E15 is approved for use by all post-2000 model-year light-duty vehicles.
The current 3-by-5-inch E15 pump label is orange with black text and cautions that the fuel is to be used only in 2001 and newer passenger vehicles and in flexible fuel vehicles (FFVs). The label's text also warns that the fuel is not be used in "other vehicles, boats or other gasoline-powered vehicles."
If EPA maintains an E15 label, it proposed to replace the term "E15" with "contains up to 15% ethanol," change the phrase "use only in" to "safe for use in" and remove the "attention" banner atop the label.
Emily Skor, CEO of ethanol industry group Growth Energy, told EPA that the current label "persists as a barrier to consumers' purchase of E15 as it is confusing and undermines consumer confidence in the fuel," adding that a recent survey found that nearly half of those polled said the current label "makes them uncomfortable and unlikely to use the fuel. Forty percent of those responding also said the label "leads them to believe E15 is bad for their vehicle's engine."
Growth, the Renewable Fuels Association (RFA) and the American Coalition for Ethanol (ACE) all called for changing the label, should EPA ultimately decide not to eliminate it.
Skor proposed changing the color of the label from orange and black, which "dissuades (consumers) from use of the fuel," to blue and white, which "does not elicit such strong adverse reactions."
RFA's vice president of regulatory affairs, Kelly Davis, said the group would prefer a black and white version. Ron Lamberty, senior vice president at ACE, said retailers and brands should be allowed to use a color scheme that matches the label for unleaded gasoline sold at their units.
The biofuel groups largely agreed with EPA's proposed language changes and opposed permitting state and local governments to develop their own E15 labels should the EPA's be eliminated, saying that the Clean Air Act (CAA) and Federal Trade Commission (FTC) regulations prohibit those entities from adopting or enforcing their own E15 label requirements.
In joint comments, three groups representing fuel retailers -- NATSO, SIGMA and NACS -- told EPA that while they believe an E15 label is still needed, they support changes to the color and language if the modifications are "aimed at increasing the sale of liquid fuels to customers."
Tim Hogan, director of motor fuels for the American Fuel & Petrochemical Manufacturers (AFPM), said the proposed changes could result in misfueling of vehicles not certified to use the higher ethanol blend. "Boaters, motorcyclists, and outdoor power equipment owners depend on the availability of an effective pump label to prevent misfuelling," Hogan said, adding that failure to make that clear could result in "potential liability, a loss of an equipment manufacturer's reputation, and warranty disagreements."
Although AFPM urged the agency to retain the current label, it offered suggestions to alter it "that will enhance consumer understanding" --including changing the "attention" banner to one that reads "warning."
Hogan also said the text at the bottom of the label should be altered to note that motorcycles are prohibited from using E15.
The American Petroleum Institute (API) concurred with AFPM's proposed label changes, but added that the revised notice should include the words "not for use in certain vehicles or engines. Prior to use consult your owner's manual for fuel recommendations." API also agreed with ethanol industry groups that the CAA and FTC regulations preempt states from enacting their own labeling requirements.
The ethanol groups also largely backed EPA's proposed UST changes, with RFA telling the agency that the likelihood that sale of higher ethanol blends will continue to increase justifies the agency's call for UST systems be compatible with fuel blends containing up to 100% ethanol.
The retail fuel organizations added that an E85 compatibility standard would be "just as effective in ensuring the safe storage of fuels underground," adding that it is not "realistic" to expect E100 fuels at retail pumps anytime soon.
State agencies expressed a number of concerns with EPA's proposal, as Oregon's Department of Environmental Quality said it would not update its rules in line with the agency proposal as higher blends of ethanol can corrode UST system components. The Virginia Department of Environmental Quality said the agency failed to consider how the components of tank systems can be corroded when crafting the proposal.
The Oklahoma Corporation Commission opposed removing the E15 label and EPA suggested language changes, saying any modifications that would not make it clear the fuel is prohibited for use in model-year 2000 or older vehicles could put motorists at risk for "major damage to their vehicle."
"This proposed rule is not designed to protect the public, but help the ethanol industry and that is bad policy in this instance given the safety issues and economic harm to citizens with older vehicles," the agency said.
--Reporting by Patrick Newkumet, pnewkumet@opisnet.com;
--Editing by Jeff Barber, jbarber@opisnet.com
Copyright, Oil Price Information Service
---
RFA Urges Adoption of Nationwide LCFS Policy That Would 'Build' on the RFS
April 16, 2021
The Renewable Fuels Association (RFA) will ask Congress to adopt a national clean fuels policy or low carbon fuels standard (LCFS) that would build upon the Renewable Fuel Standard (RFS), the ethanol industry group said on Friday.
In a call with reporters to discuss its 2021 agenda, RFA said its top policy and regulatory priorities include restoring the integrity of the RFS, building upon the RFS with LCFS programs, modernizing U.S. transportation fuels infrastructure and rejuvenating ethanol trade.
The organization said LCFS policy should require an annual reduction in the average carbon intensity (CI) in transportation fuels, similar to programs operating in California and Oregon.
In addition, RFA said the policy must be based on "consistent and fair lifecycle analyses for all fuel options," something ethanol proponents have traditionally criticized in California's LCFS approach.
RFA also said it believes any national clean fuels or LCFS policy has to ensure technology and vehicle neutrality, including equitable credit for fuel and vehicle combinations that result in energy efficiency improvements, such as electric vehicles (EV) and high-octane fuels in optimized engines. This has become another frequent point of criticism of the California LCFS given that the state has modified the program in recent years to push for increases in EV adoption.
Finally, RFA said a national policy should offer transparency in lifecycle accounting and carbon credit generation.
RFA said that in 2019, corn ethanol's carbon intensity (CI) was 40-45% below that of conventional gasoline and that the industry is moving closer to producing "ultra-low-carbon corn ethanol" that has the potential to be carbon negative. The group said it expects that over the next two to five years, ethanol will become 50-60% "cleaner" than gasoline and could within a decade achieve an 80-90% reduction through improvements in corn transport, farming, soil carbon sequestration and carbon capture and sequestration (CCS).
The industry group added that ethanol has accounted for 35% of the greenhouse gas (GHG) emissions claimed under the California LCFS, exceeding renewable diesel's 27% share, biodiesel's 15% share and electricity's 13% share.
RFA also pointed to a new public opinion survey conducted by Morning Consult, which polled 1,982 registered voters between March 30 and April 2. That poll found that voters intuitively support renewable fuels when talking about reducing carbon emissions and said respondents favored carbon emissions reduction approaches that would expand incentives for renewable fuels over EV mandates or a carbon tax.
RFA said the survey showed 55% expressed a favorable view of ethanol and that of those polled that expressed an opinion on ethanol, 74% had a favorable opinion.
The poll also showed that a nationwide LCFS policy has support from a majority of voters and that "EV hesitancy is real," RFA said. The poll found that 57% of voters support an LCFS policy as an approach for cutting GHG emissions and that 74% believe EVs are too expensive for most consumers.
As part of its push to modernize transportation fuels infrastructure, RFA said it will press Congress to extend funding for higher blend infrastructure grants, adding that there also should be federal incentives for the manufacturing and sale of flexible-fuel vehicles (FFVs). In addition, it will advocate for a streamlining of regulations governing E15 to allow for more rapid adoption of the higher ethanol blend.
The organization also said that the Biden administration's planned rewrite of the fuel economy and GHG emissions rule should require automakers to ensure all new light-duty vehicles are engineered and warrantied to operate on higher octane mid-level ethanol blends.
RFA's call for a national LCFS program marks a sharp turnaround for the ethanol industry, which was an early critic of the California program because of concerns that it created an unlevel playing field for the corn-based biofuel.
--Reporting by Jordan Godwin, jgodwin@opisnet.com;
--Editing by Jeff Barber, jbarber@opisnet.com
Copyright, Oil Price Information Service
EPA Lacked Legal Authority to Extend RVP Waiver to E15, Refiners Tell Court
April 14, 2021
EPA lacked the legal authority to extend a Reid Vapor Pressure (RVP) waiver to gasoline containing 15% ethanol, refining industry lawyers told the U.S. Court of Appeals for the District of Columbia Circuit on Tuesday.
In oral arguments before a three-judge panel of the court, the American Fuel and Petrochemical Manufacturers (AFPM) asked that it overturn a final rule the agency issued in June 2019 that granted E15 a Reid Vapor Pressure (RVP) waiver, a move that lifted restrictions that had prevented the higher ethanol blend from being sold in parts of the country between June 1 and Sept. 15. While the Clean Air Act (CAA) sets the fuel volatility limit at 9 psi, the law allows a 1-psi waiver for E10. EPA regulates fuel volatility to limit evaporative emissions that add to ground-level ozone, the primary contributor to smog.
President Donald Trump in October 2018 directed the agency to issue a rule providing an RVP waiver to E15, a promise he made while campaigning for office.
AFPM attorney Kevin King told the court that Congress in 1990 amended the CAA to state that the 1-psi waiver is available only to E10, describing the provision as a "specific requirement, not a floor and not a ceiling."
Congress, King told the judges, intentionally omitted modifiers such as "at least" or "at most" when it approved the waiver. Congressional intent, he added, was to establish an exact limit that would not leave open the option for EPA to extend the waiver to higher-level ethanol blends.
"What we are arguing here is that the rule that [EPA] adopts needs to bear some reasonable relationship to the statutory language," King said, adding that any move to expand the RVP waiver can only be done through legislation.
Judge Robert Wilkins appeared to pick up on King's arguments, when he later asked government attorney Perry Rosen whether "when something says it contains a specific percent ... it means specifically that amount?
"I don't see any ambiguity here at all. Why am I wrong?" Wilkins asked.
"It depends on the regulation and it depends on the context," Rosen replied, including what was known about the fuel at the time the statute was written and the fact that the E15 waiver rule was prompted by a directive from the president.
Ethan Shenkman, an attorney representing ethanol industry groups Growth Energy and the Renewable Fuels Association (RFA) as well as the National Corn Growers Association (NCGA) also pushed back on King's argument, saying that the original language in the statute "is not a recipe, it is a gatekeeper." The three organizations intervened in the case on behalf of EPA.
Shenkman offered the example of government regulations that prohibit beverages from being labeled fruit juice unless they contain at least 5% fruit content, saying "any reasonable beverage maker would understand that language to mean contains at least 5% natural juice as opposed to contains exactly 5%."
The court, he added, should also look at the statutory context, saying that Congress at the time also intended to "ensure the continued viability of ethanol plants and to capture all of the benefits of ethanol ... while keeping volatility within acceptable limits."
And since numerous studies conducted since 1985 have shown that ethanol's volatility declines after peaking at the 10-psi level in E10, Shenkman said there is "no good reason why Congress would have wanted (the RVP waiver) to impose a hard cap of 10%, which would impede the continued viability of ethanol plants while making things worse, not better, for volatility."
AFPM attorney Elizabeth Dawson, however, said volatility is not the only concern when discussing higher blends of ethanol, telling the judges that no one in support of the waiver "is arguing that E15 is not more polluting [than E10], which it indisputably is."
And EPA's failure to address that, she said, makes the final rule "arbitrary and capricious." The agency, she added, failed to conduct studies comparing summertime emissions of E10 and E15, despite concerns raised by parties in the suit.
Rosen disputed Dawson's argument that E15 is more polluting than E10, pointing out that some studies on tailpipe emissions between the two show an increase while others show E15 can reduce emissions of some pollutants such as carbon monoxide.
"Most importantly ... what EPA found was that none of those small increases would have any material effect on the ability of the emissions equipment to control the emissions and petitioners make no case otherwise," Rosen said.
--Reporting by Patrick Newkumet, pnewkumet@opisnet.com;
--Editing by Jeff Barber, jbarber@opisnet.com
Copyright, Oil Price Information Service
---
Washington State Lawmakers Pass LCFS Bill, Program Could Start by 2023
April 9, 2021
After nearly a decade of trying, Washington state could finally get its low-carbon fuel standard (LCFS).
The state Senate late Thursday passed the bill (HB 1091) by a 27-20 margin, with two excused, just days before Sunday's deadline to pass bills from the opposite side of the Legislature.
The bill – which would create an LCFS program in the state beginning no later than the start of 2023 – now faces further negotiation before it heads to the desk of Democratic Gov. Jay Inslee, a climate advocate who has long made it a priority to establish a program.
"This is a good day for the future of our state," Inslee said Thursday night on Twitter. "The state Senate has voted in favor of a clean fuel standard. Congratulations to [state Rep. Joe Fitzgibbon] for your dogged persistence on this issue.
"HB 1091 will reduce emissions, clean our air and grow clean jobs, proving we can improve public health and increase economic opportunity by fighting the climate crisis."
Lawmakers will now work to pass a separate transportation funding package, which is tied to the passage of the LCFS bill and a cap-and-trade bill that the state Senate also passed Thursday night. The legislative session ends April 25. There are also some differences between the House and Senate versions of the bill that will need to be negotiated and reconciled.
The LCFS bill's text says that it "Requires the passage of a separate additive transportation funding act generating more than $500 million per biennium in revenue before Ecology may assign compliance obligations or allow for actual credit generation in order to coordinate and synchronize the CFP with other transportation-related investments."
The LCFS program would target greenhouse gas (GHG) emissions reductions from transportation fuels by 10% from 2017 levels by 2028 and 20% by 2035.
Such a program would put Washington just behind Oregon's Clean Fuels Program (CFP), which targets a 20% reduction by 2030 and a 25% reduction by 2035, and California's LCFS, which seeks a 20% reduction by 2030. Washington's LCFS will create an uninterrupted chain of state and provincial programs along the coast of the U.S. and Canada, capped off by British Columbia's program started in 2013.
It was the fourth straight year the bill was introduced by Fitzgibbon.
The bill was approved by the state House in a 52-46 vote on Feb. 27. Democrats hold a nine-seat majority in the Senate and a 16-seat majority in the House, but some Democrats representing farming communities had voiced opposition to an LCFS over concerns that the program will raise fuel prices and does not provide revenue for transportation projects.
Inslee's climate initiative introduced in January called for allocating $2.85 million to the state's Department of Ecology to help implement the program.
"Transportation is the sector that emits the most greenhouse gas emissions of any sector in Washington," Fitzgibbon said in Senate testimony in March. "This is a technology-neutral policy that sets up a process by which the fuels used to power our transportation network reduce their greenhouse gas intensity over time, which means we're not picking winners and losers to achieve our goals."
--Reporting by Jordan Godwin, jgodwin@opisnet.com
--Editing by Aaron Alford, aalford@opisnet.com
Copyright, Oil Price Information Service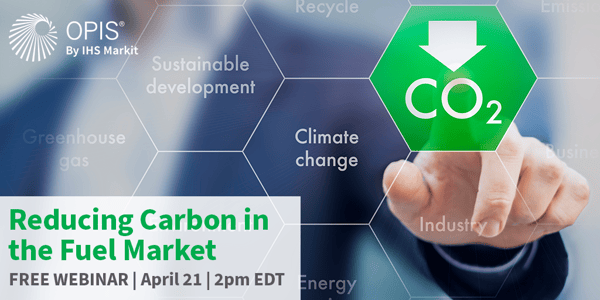 ---
RIN Prices Could Swing Wildly Depending on RVOs, Supreme Court Ruling: BofA
March 29, 2021
Renewable Identification Number (RIN) credit prices, which this year soared to multiyear highs, could swing wildly, depending how EPA sets the 2021 and 2022 Renewable Volume Obligations (RVOs) and the Supreme Court's rules on an appeal of last year's ruling by the 10th U.S. Circuit Court of Appeals that would limit small refinery exemptions (SREs), Bank of America (BofA) said in a Friday report.
The report said the primary reason for the recent runup in RINs prices has been the uneven impact the COVID-19 pandemic has had on fuel demand, calling it a "critical issue" for the Renewable Fuel Standard (RFS) program.
BofA analysts highlighted the tightening spread between ethanol-related D6 RINs prices and biomass-based D4 RINs prices. While D6 RINs prices have been boosted by concerns that the RIN bank could dry by the end of this year as the compliance obligation demand outpaces depressed COVID-19 pandemic-related gasoline demand, D4 RINs prices have been pressured in part by the prospects of a looming renewable diesel boom that could sharply increase the number of D4 credits.
The report said ethanol-related D6 RINs prices have risen roughly sevenfold since the start of 2020, and the cost of RFS compliance per gallon of gasoline has grown from around 3cts/gal to about 16cts/gal over the same period.
The OPIS RVO value -- the implied cost of Renewable Fuel Standard compliance for refiners and importers of gasoline or diesel who do not blend biofuels -- reached 17.215cts/gal on March 15, the highest level in the 13-year history of OPIS RINs assessments.
The report said production capacity is expected to increase more than 100,000 b/d in 2021 and 2022 and will likely exceed that of biodiesel by 2023.
"If the EPA does not increase D4 renewable volume obligations in-line with RD output, D4 values could come under pressure, further tightening the spread between D4 and D6 RINs," the report said. "However, if the EPA overestimates the world's ability to supply vegetable oil feedstocks needed to reach its mandates for 2021-22, it may set unachievable D4 RIN obligations, which could send D4 RIN prices and food prices higher."
In addition, BofA cautioned that a prolonged recovery in U.S. gasoline demand could continue to drain the RIN carryover bank even after the renewable diesel buildout. While SREs could provide something of safety valve, the analysts said EPA's ability to approve such waivers could be sharply curtailed if the Supreme Court upholds the lower court's ruling. The high court is scheduled to hear oral arguments on April 27.
The bank said EPA will likely propose its 2021 and 2022 RVOs after the Supreme Court's decision is released in May or June.
"The delayed RVO announcements create uncertainty for fuel blenders and could contribute to the volatility in RIN prices," the report says. "The EPA under the Biden administration will have to balance its green intentions with Covid impacts on RIN prices and rising agriculture prices which could translate into food price inflation."
BofA said RINs have been the "primary driver" in the rising premium in recent months between U.S. refined fuels and imports. The report projected RINs prices could stay elevated for "some time until there is more clarity on these issues, gasoline demand rises and corn prices ease."
"The collapse in gasoline demand greatly curtailed ethanol blending opportunities and ultimately forced ethanol production cuts," the report says.
The bank highlighted how much RINs prices have been impacted by rallying corn and soybean oil, the primary feedstocks for ethanol and biomass-based diesel in the U.S., respectively. Since August 2020, corn prices have rallied nearly 80%, while soybean oil prices are up more than 50% from the end of 2019.
-- Reporting by Jordan Godwin, jgodwin@opisnet.com;
-- Editing by Jeff Barber, jbarber@opisnet.com;
Copyright, Oil Price Information Service
---
US EPA Backs 10th Circuit's Ruling on SREs in Brief Filed With Supreme Court
March 26, 2021
EPA has asked the U.S. Supreme Court to affirm last year's ruling by the 10th U.S. Circuit Court of Appeals that would sharply limit the number of small refineries eligible to receive economic hardship waivers from Renewable Fuel Standard (RFS) compliance.
In a Wednesday brief, the agency offered a full-throated endorsement of the lower court's order, which held that EPA cannot grant small refinery exemptions (SREs) to any refiner that had not maintained a continuous string of waivers dating to the start of the RFS. EPA said the order conforms with the program, which Congress designed "to force major changes" in the country's transportation fuel supply.
The structure and design of the RFS program, the agency added, "indicate that Congress provided small refineries a temporary bridge to compliance with the RFS annual volume requirements, not a perpetual carveout of the kind petitioners seek."
In its ruling, the circuit court ordered EPA to revoke SREs it approved for HollyFrontier's Cheyenne and Woods Cross refineries and CVR Energy's Wynnewood refinery for the 2016 and 2017 compliance years.
The companies in September asked the Supreme Court to review the ruling, and the court granted the request in January. Oral arguments are scheduled for April 27.
EPA told the court on Wednesday that the HollyFrontier and CVR refineries were exempt from RFS compliance for five to seven years at the outset of the program, but all complied with the program before seeking waivers for 2016 and 2017.
The Woods Cross refinery, EPA said, had already complied with the 2016 RFS volume requirement when it petitioned for a waiver, and the Cheyenne refinery had complied by the time its petition was granted.
"To be sure, a particular small refinery may operate more successfully in some years than in others," EPA said. "But more than a decade into the RFS program, it is more consistent with the statutory objectives to require continued compliance by small refineries ... than to allow a resumption of a temporary exemption that lapsed earlier."
And EPA said, "the costs of ongoing RFS compliance need not fall [on small refiners], but instead will be reflected in the market-wide price of refined products."
HollyFrontier and CVR in their Supreme Court appeal argued that the 10th Circuit erred when it found that language in the RFS prevents any small refinery from receiving an "extension" of an exemption unless it previously maintained such an exemption. The companies said SREs were instead designed as a continuing "safety valve available to individual small refineries on an as-needed, case-by-case basis."
But EPA said the court got it right, adding that the specific statutory context of the program and the "structure and purpose of the overall RFS program support the circuit court's 'commonsense interpretation.'"
"Making such an 'extension' available only to the diminishing number of small refineries with an existing exemption ... advances the RFS program's goal of increasing the production of clean renewable fuels," it added.
The "ordinary concept of an extension," EPA told the court, "does not include a resumption of some state or activity after a break in continuity.
"A hotel guest seeking to book a favorite room, for example, would not ask to 'extend' a stay that had occurred years earlier," the agency said in its filing.
In their appeal to the Supreme Court, refiners pointed to a clause in the statute that says small refiners may petition for an SRE "at any time" based on "disproportionate economic hardship" as evidence the program does not require them to maintain a continuous string of exemptions to be eligible for relief.
But EPA argued that the "at any time" language refers only to "when a petition for an extension can be filed, who can file such a petition and on what grounds such a petition can be granted."
It does not, the agency added, modify the "extend" language that prevents it from granting waivers to small refiners that were able to comply with the program in some years but not others.
--Reporting by Jeff Barber, jbarber@opisnet.com;
--Editing by Jordan Godwin, jgodwin@opisnet.com
Copyright, Oil Price Information Service
---
RIN Bank Drawdown Worries May Mean More Upside for Credit Prices: Analysts
March 2, 2021
Renewable Identification Number (RIN) credit prices, which have risen in recent months to multiyear highs on expectations that the Biden administration will limit small refinery exemptions (SREs), may continue even higher on growing concerns that the number of banked RINs is drawing down and could be depleted as early as next year, sources said.
University of Illinois economist Scott Irwin last week told OPIS there's a scenario under which the bank will run dry that hinges on a number of presumptions, including an effective end to small refinery waivers, a decision by EPA to increase the 2021 or 2022 Renewable Volume Obligation (RVO) by 500 million gal to comply with a 2017 remand from the U.S. Court of Appeals for the District of Columbia Circuit, and a decision by the new administration to increase annual renewable fuel blending targets.
Irwin said the credit bank could also be drawn down if a refining industry legal challenge to EPA's decision to reallocate some SRE-waved volumes in the 2020 RVO fails, or if EPA rejects requests for general waivers from Renewable Fuel Standard (RFS) compliance because of the COVID-19 pandemic.
If those assumptions are borne out, Irwin said he believes "the RIN bank will basically be gone after final compliance for 2019, 2020 and 2021. The market seems to be pricing this scenario in RIN prices right now."
When EPA finalized the 2020 RVO, it estimated that there were about 3.48 billion carryover RINs available, an increase of 1.29 billion RINs from what the agency forecast when it proposed the 2019 blending targets.
EPA for many years has stressed the importance of having a healthy bank of carryover credits, and the agency reiterated that stance in the final 2020 RVO, saying it believes maintaining a RIN pool "is extremely important in providing obligated parties compliance flexibility in the face of substantial uncertainties in the transportation fuel marketplace and in providing a liquid and well-functioning RIN market, upon which success of the entire program depends."
Andy Lipow of Lipow Oil Associates on Tuesday said he that believes the D6 ethanol-related RIN bank will be depleted at the end this year, largely because of the decline in gasoline demand brought on by the COVID-19 pandemic and the continuing ethanol compliance obligation.
Lipow said obligated parties will likely look to D4 biomass-based diesel RINs and D5 advanced biofuel RINs -- primarily from renewable diesel and biodiesel-- to meet their compliance obligations.
"As the ethanol RIN blank is depleted, the market is going to be looking at D4 RINs to fill the void, but those prices are being driven up by bean oil prices," Lipow said. "RIN prices can certainly exceed historical prices as the increase in agricultural prices outpace those of gasoline and diesel."
In a 2021 ethanol and RIN market outlook released Feb. 12, Citi Research analysts predicted RINs prices could peak above a record $1.25-$1.50/gal this year. Citi estimated the average price range for D6 2021 RINs to be around 70-80cts, more than double the values seen in the first half of 2020.
D6 2021 RINs Tuesday morning were reported traded as high as $1.17, the highest reported trade level since July 2013, when OPIS assessed the D6 price at a record $1.455/credit.
"The funny thing is, back then, it was just dumb fear that drove the market to those levels," one RINs trader said last week. "But now, everybody can see the storm that's coming."
The OPIS RVO value -- the implied cost of RFS compliance -- stood around 14.1cts/gal at midday Tuesday, well above the Jan. 29 mark of 13.595cts/gal, the highest level in the 13-year history of OPIS RINs assessment.
Irwin said that when considering how high RINs prices could go, it's important to think about two potential developments that could dramatically shift the landscape.
First is the rapidly growing renewable diesel capacity in the U.S. and how much that will impact not only the increased availability of D4 RINs but also the compliance footprint of several refiners who plan to begin producing the biofuel, changing their status from RIN buyers to sellers.
Second, Irwin pointed to increased speculation that the Biden administration could push to replace E10 with E15 as the national standard gasoline/ethanol blend.
"It would be a game changer for RIN prices if it somehow becomes U.S. policy," Irwin said. "This could be an attractive solution to the high RIN price problem for the Biden administration, and it could be touted as green and helping those Iowa farmers. If this happened, then we will see some of those renewable diesel projects abandoned."
If most of the proposed renewable diesel projects are completed, annual capacity is projected to grow from less than 1 billion gal to nearly 5 billion gal -- and feedstock soybean oil futures are already soaring. That relationship has driven RINs prices in recent weeks, but if a significant amount of that proposed capacity does come online, then RIN prices would retreat, one analyst said.
Until then, most market sources believe RIN prices will remain strong until the White House's approach to the RFS becomes clearer.
"We're kind of stuck at these price levels at the moment," the trader said.
"Nowhere to go but up."
--Reporting by Jordan Godwin, jgodwin@opisnet.com, and Aaron Alford, aalford@opisnet.com;
--Editing by Jeff Barber, jbarber@opisnet.com
Copyright, Oil Price Information Service
---
Analysis: Biofuels Sector Hopeful Over Biden RFS Stance, Wary of GHG Policy
December 16, 2020
Renewable fuel industry officials are mostly optimistic that the incoming Biden administration will be more supportive of the Renewable Fuel Standard (RFS) than the Trump White House, though some worry that the president-elect's promised aggressive approach to carbon emission reductions could have impacts on the renewable fuels landscape.
With Joe Biden set to assume the nation's highest office in January, OPIS interviewed a variety of sources across the liquid fuels industry to get their takes on renewable fuels policy over the next four years and beyond.
Many in the industry were critical of President Donald Trump's handling of the RFS, with most predicting that a few of his EPA's biggest decisions -- a large expansion of the small refinery exemption (SRE) program, failure to address a federal court remand directing EPA to restore 500 million gal in blending obligations it found were improperly excluded from the 2016 Renewable Volume Obligation (RVO), and its inability to issue a proposed or final 2021 RVO -- will be left for the new administration to address.
But criticisms of Trump largely targeted his administration's interpretation of the RFS, while concerns over a Biden White House focused on the possibility that planned climate policies could lead to a contraction or replacement of the program during this first term.
The Biden campaign this summer released a $2 trillion infrastructure and clean energy plan that was long on electric, nuclear and hydropower innovation, while providing little mention of the role biofuels could play in achieving the goal of getting the U.S. to net-zero greenhouse gas (GHG) emissions by 2050.
Emily Skor, CEO of ethanol industry group Growth Energy, said the plan, which calls for the addition of 500,000 electric vehicle charging stations, could use some "parity" by matching that effort with a drive to expand access to E15 at the pump.
Skor, however, pointed out that outside of the climate plan, Biden expressed support for biofuels as recently as August, when he charged Trump with using SREs to "undercut" the RFS program.
"You saw very concrete, substantive expressions from [Biden]," Skor said. "Not only just general statements of support for biofuels, but he was specific in his support for strong [RFS] annual blending obligations, and very publicly admonished the Trump EPA for the abuse of [SREs]."
Geoff Cooper, president and CEO of the ethanol group Renewable Fuels Association (RFA), said that based on conversations with the Biden campaign, his organization is optimistic that the incoming administration "is going to enforce the [RFS] in a way that is consistent with statute."
Importantly, the Biden administration will have a larger role to play in determining the future trajectory of the RFS program than any of his predecessors because the annual blending targets set by Congress expire after 2022 and EPA will have greater authority to set volumes.
While many sources predict an increase in mandated volumes come 2023, others worry that changes in market dynamics over the past few years may result in smaller volume allocations -- with ethanol likely most at risk of a significant drawdown.
A refining industry source said 2022 represents a "natural breaking point" for the program, due largely to the steady encroachment of EVs in the light-duty market combined with the continued decline in demand for gasoline that has been exacerbated this year by the COVID-19 pandemic.
"If nothing else, the existing volumes are too high," the source said.
"Congress and the EIA were overly optimistic about where gasoline demand was heading over the preceding decade."
While the case for boosting ethanol's share of the mandate past 2023 has come under scrutiny, some said a volumetric increase for other renewable fuels seems more likely.
Scott Irwin, an economist with the University of Illinois, said previous federal court rulings, most recently January's ruling on SREs by the 10th U.S. Circuit Court of Appeals, have established that Congress intended the program to drive an ever-increasing share of renewable fuels into the nation's fuel supply.
And although any attempt to retreat from that will likely find little support in court, he suggested that EPA could craft a volume obligation that cuts the ethanol portion of the mandate while still achieving a total annual increase by raising targets for biomass-based diesel and advanced biofuel.
"For example, you could see the Biden administration saying, 'We're going to set the overall target as increasing, but drop the corn ethanol conventional mandate setting in a manner more consistent with the E10 blend wall,' " Irwin said.
Cooper agreed that a reading of the RFS statute shows that the program requires "a lasting path for growth in the consumption of renewable fuels," adding that ethanol volumes could continue to grow post-2022 if EPA pushes the nation's gasoline pool toward E15 and beyond.
Meanwhile, Kurt Kovarik, vice president of federal affairs at the National Biodiesel Board (NBB), noted that, while gasoline demand has fallen short of projections, demand for diesel -- and with it, biodiesel -- "continues to go up."
"We operate in a sector of the transportation supply that is going to be extremely difficult to electrify," Kovarik said. "And it is probably decades off, if ever."
Michael McAdams, president of the Advanced Biofuels Association (ABFA), was equally as bullish on that dynamic and said the renewable fuels industry should start to emphasize and invest in those portions of the transportation sector unlikely to be electrified during the Biden administration and after.
A major avenue for that would be the renewable jet fuel and renewable diesel markets, he said, adding that over the next 20 years, both fuels could "realistically" deliver 30 billion to 50 billion gal to the market -- twice to more than three times the current 15 billion-gal carve-out for conventional ethanol.
McAdams said his view of the political landscape "suggests we all work together, rather than not," adding that ABFA is looking at ways to increase cooperation between the refining and biofuels industries in efforts to combat climate change.
That view was backed by Scott Segal, an attorney with Bracewell, who works with merchant refiners. "I think that biofuels and conventional motor fuels must come together in defense of liquid motor fuels and the internal combustion engine," he said.
Segal added that the groups will likely find common ground "out of necessity" once the federal government tries to craft any new policy regarding transportation fuels.
"If the next administration tries to articulate a new transportation policy, then the discussion of the details of that policy will naturally bring the liquid motor fuels community together," he said.
But Segal cautioned against expectations that the two competing industries are about to enter an era of harmony. "I think naturally that decision to kind of come together in terms of what their future outlook is would be an economic one," he said, adding that "[n]either side wants to give too much ground in terms of volumes or their share of the market."
Skor added that the Biden administration must realize there is "no silver bullet" for reducing emissions in the transportation fuels market and that the internal combustion engine will be the dominant vehicle on the road "for the foreseeable future."
And although recent calls for possibly expanding California's Low Carbon Fuel Standard (LCFS) program across the country could get a serious look by the Biden administration, Skor and Cooper said such a move, even if it could get through a divided Congress, would likely complement the RFS program, rather than replace it.
Similarly, Irwin said he believes a national LCFS has a "very low likelihood" of passing due to vast disagreements that would arise between states under a divided government.
But Brian Jennings, CEO of the American Coalition for Ethanol (ACE), which has been discussing with states and others a potential Midwest LCFS-like program, said his group is putting equal focus on lobbying for an increase in the RFS volumes in 2022 and beyond and pushing for the creation of a national clean fuels policy that would be layered on top of the RFS.
"We need to put our shoulder behind building moment for a new clean fuel policy," he said. "A reasonable LCFS at the federal level that complements the RFS would take us even further down the road of being a positive contributor to reducing greenhouse gas emissions."
Any effort by the new administration to push for a national LCFS program would, however, be opposed by some in the refining sector, an industry source said.
--Reporting by Patrick Newkumet, pnewkumet@opisnet.com;
--Editing by Jeff Barber, jbarber@opisnet.com
Copyright, Oil Price Information Service
Senate COVID-19 Bill Must Offer Direct Aid to Biofuels Industry: RFA Chief
July 29, 2020
The head of the Renewable Fuels Association (RFA) on Wednesday said it's "vitally important" that the final version of the U.S. Senate's coronavirus stimulus bill include "an explicit provision specifically for renewable fuels."
Senate Republicans on Monday introduced a $1 trillion bill designed to boost a U.S. economy that has been hard hit by the coronavirus disease 2019 (COVID-19) pandemic. While the bill fell short of providing the direct assistance the biofuels industry has been pressing for since spring, the measure offered at least the possibility of some relief for renewable fuel producers by providing USDA with $20 billion to distribute to agricultural producers, growers and processors affected by the COVID-19 outbreak.
But in a Wednesday statement, RFA President and CEO Geoff Cooper said it "isn't clear how or whether ethanol producers would benefit from the inclusion of 'agricultural processors' in the Senate bill's agricultural relief provisions."
"What is clear is that USDA is seeking unambiguous direction from Congress with regard to distributing assistance for ethanol producers. It is vitally important that the final package include - as the HEROES Act did - an explicit provision specifically for renewable fuels. There is still time to make sure that happens."
The HEROES Act, a $3 trillion coronavirus stimulus bill that passed the Democrat-controlled House in May, includes language that would pay biofuel producers 45cts/gal for output during the first four months of this year.
Many in the biofuels industry were hoping that the Senate Republican legislation would have included a bill introduced earlier this month by Sens. Chuck Grassley, R-Iowa, and Amy Klobuchar, D-Minn., that would have provided federal funds to cover 75% of what biofuel producers paid to secure feedstocks in the first quarter of this year.
"With ethanol producers struggling to recover from coronavirus-related market disruptions, it is imperative that any new aid package include specific emergency relief for the renewable fuels industry. Ethanol plants across the country have seen their markets totally destroyed by the pandemic, and many are hanging on by their fingernails," Cooper said.
"There is strong, bipartisan support in both chambers for including assistance for renewable fuels in this round of emergency relief, and the industry needs a helping hand today more than ever before," he added.
--Reporting by Jeff Barber, jbarber@opisnet.com;
--editing by Michael Schneider, mschneider@opisnet.com
Copyright, Oil Price Information Service
---
EPA's Anti-Backsliding Study Used Flawed Emissions Model, Biofuel Groups Say
July 10, 2020
Major biofuel industry groups last week said an anti-backsliding study (ABS) issued by EPA in early June used a flawed emissions model that led it to overstate negative air quality impacts of the Renewable Fuel Standard (RFS) and failed to credit the environmental benefits provided by renewable fuel use.
The study, which was published in the Federal Register on June 8, concluded that "no additional measures are necessary" to mitigate the effect of renewable fuel volumes on the environment beyond the Tier 3 emissions standards finalized by the agency in 2014.
The study reviewed the RFS program's impact on air quality, while considering "different blend levels, types of renewable fuels, and available vehicle technologies, as well as appropriate national, regional, and local air quality control measures." Congress in the Energy Independence and Security Act of 2007 directed EPA to regularly assess the environmental impacts of the RFS.
Although the agency in 2010 completed a comprehensive life-cycle analysis to determine greenhouse gas (GHG) reduction thresholds for the program, it did not meet promises to update that data as science evolved.
Biofuels groups agreed with the ABS' broad finding that no additional actions are needed to mitigate adverse impacts of renewable fuel use, though they argued that the report failed to accurately portray biofuels' air quality benefits.
Much of the criticism centered on EPA's use in the study of Motor Vehicle Emission Simulator (MOVES) and the Community Multiscale Air Quality models to assess emission changes.
"We agree that no additional 'fuel control measures' are necessary, but we reach this conclusion for a different reason than EPA," Geoff Cooper, president and CEO of the Renewable Fuels Association (RFA) said. "We believe no additional measures are necessary because the scientific evidence demonstrates that increasing the concentration of ethanol in gasoline generally improves air quality and does not cause 'adverse air quality impacts.' "
He said the ethanol industry group "remain[s] concerned" with the study's reliance on the MOVES model, noting that the agency itself has acknowledged that the tool has "a number of limitations."
"We firmly believe this model and the resulting ABS report are inappropriate tools for assessing the real-world air quality impacts of renewable fuels,"
Cooper said. "We have repeatedly asked the agency to look at empirical data and real-world emissions measurements when assessing the air quality impacts of ethanol-blended gasoline, and we renew that request today."
Ethanol industry group Growth Energy also voiced support for the ABS' general finding, but added that its own technical analysis shows the report "overstates the RFS' potential adverse impacts on air quality and understates the emissions and air quality benefits of ethanol-blended fuels."
Growth Energy said "various methodological issues with the fuel properties used in EPA's modeling, as well as the studies underlying the MOVES model" means the report "erroneously overestimates even slight increases in certain pollutants (NOx, VOCs, and particulate matter (PM)."
And the group said the study underestimates the benefits of ethanol-blended fuel in reducing emissions of potent air toxics such as benzene, butadiene, particulate matter and carbon monoxide. Growth pointed to a USDA study that found ethanol reduces greenhouse gas emissions (GHGs) by at least 39% compared with gasoline.
Kurt Kovarik, vice president of federal affairs at the National Biodiesel Board (NBB), said in his comments that the ABS "undercuts the known benefits of the [RFS] on air quality," and asked the agency to "consider other studies that better illuminate the known benefits of biodiesel on tailpipe emissions and on other applications such as nonroad and the heating oil industry."
The American Coalition for Ethanol (ACE), which filed comments on the study as part of a coalition of groups that included the Urban Air Initiative (UAI) and
10 state corn grower organizations, backed the no-action-needed finding, but "vehemently disputed" the ABS conclusions that informed the Agency's determination.
"Not only is the anti-backsliding study scientifically flawed, it is procedurally defective, as EPA failed to comply with the Administrative Procedure Act and the Federal Advisory Committee Act when finalizing the underlying MOVES2014 model," the coalition said. "These legal deficiencies, alone, justify the withdrawal of the anti-backsliding study until EPA submits its model for public notice and comment."
ACE and the other groups argued that to the extent the use of E10 would purportedly have increased air pollutants, the likely costs of such fuel control measures would "dwarf" any possible health benefits.
"If any fuel control measures are "necessary," it is fuel control measures to control aromatics content [in gasoline], not ethanol," the coalition said.
In response to a 2016 report from EPA's inspector general, the agency agreed to issue the ABS by September 2024. It later agreed to an earlier release data under a settlement agreement it reached with the Sierra Club, an environmental group that has been critical of the RFS program. The organization in late 2017 sued the agency over the delay in issuing the ABS.
--Reporting by Patrick Newkumet, pnewkumet@opisnet.com
--Editing by Jeff Barber, jbarber@opisnet.com
Copyright, Oil Price Information Service
House Members Ask Administration to Deny Retroactive SRE Petitions
July 2, 2020
A group of 32 U.S. House of Representatives members on Thursday asked the Trump administration to order EPA to reject 52 retroactive small refinery exemption
(SRE) petitions the biofuels industry says are designed to skirt a January circuit court ruling that limits the agency's ability to issue Renewable Fuel Standard (RFS) compliance waivers.
"We believe that these 'gap year' petitions are ultimately an effort to evade and undermine the January 2020 Tenth Circuit Court ruling in Renewable Fuels Association v EPA, where the Court held that [SREs] could only be granted to refineries that received consecutive annual exemptions," the members said.
The letter was led by Midwest Reps. Rodney Davis, R-Ill., Collin Peterson, D-Minn., Dave Loebsack, D-Iowa, and Roger Marshall, R-Kansas.
The representatives said that the gap year waiver requests "jeopardize the integrity of the RFS, and if granted, will devastate our rural economies."
"We respectfully request that you ensure the EPA immediately deny these 52 'gap year' refinery exemptions as they are inconsistent with the Tenth Circuit Court ruling, and Congressional intent of the RFS," the representatives said.
"Petitioning for retroactive exemptions undermines the Court's decision, and the legal obligation that petitions be filed 'in a timely manner.'"
The group said that if the EPA were to apply the 10th Circuit Court ruling on a national level, there would be "no reasonable scenario in which an existing refinery can claim it is entitled to an exemption that it did not previously seek or receive."
Biofuel industry supporters in Congress have been critical of the EPA since the agency said in early June that it was considering the 52 exemptions spanning nearly every RFS compliance year since 2010.
The House letters come after a bipartisan group of 16 senators last week wrote to EPA Administrator Andrew Wheeler requesting that the agency reject the waivers.
Sen. Joni Ernst (R-Iowa) used her position on the Senate Environment and Public Works Committee (EPW) last Friday to block the nomination of Doug Benevento to the EPA's deputy administrator, prompting EPW Chairman Sen. John Barrasso (R-Wyo) to drop the nomination.
Four Midwest state governors echoed the calls from the 16 senators in their own letter to Wheeler sent on Monday.
Wheeler on a Wednesday conference call with reporters to discuss the environmental impacts of the U.S.-Mexico-Canada Agreement said there may be "a number of issues" with granting the waivers.
Growth Energy CEO Emily Skor on Thursday said "rural communities are done playing regulatory games with the oil industry. These gap-year exemption requests are a brazen attempt to circumvent a court decision restoring integrity to the nation's biofuel blending targets," Skor said. "They should be rejected without delay."
"EPA must immediately reject these petitions for small refinery exemptions going back nearly a decade," said Kurt Kovarik, vice president of federal affairs at the National Biodiesel Board. "The sole purpose of the petitions is to challenge the authority of the 10th Circuit Court's decision and sow uncertainty about the RFS program."
"The Trump administration has now heard from members of the House, senators and governors on this important issue for rural America," Renewable Fuels Association President and CEO Geoff Cooper said in a statement. "...We urge a speedy denial of these attempts by the oil industry to circumvent federal law and the recent court decision limiting waivers to extensions of ones previously received."
--Reporting by Patrick Newkumet, pnewkumet@opisnet.com;
--editing by Jeff Barber, jbarber@opisnet.com
Copyright, Oil Price Information Service
---
House Democrats Propose Nationwide LCFS, Other Measures in Broad Climate Report
June 30, 2020
U.S. House Democrats on Tuesday backed the creation of a nationwide Low Carbon Fuel Standard (LCFS) program as part of broad plan aimed at cutting U.S. greenhouse gas emissions to zero by midcentury.
The report, more than 500 pages, was released by House Speaker Nancy Pelosi (D-Calif.) and Rep. Kathy Castor (D-Fla.), who chairs the House Select Committee on the Climate Crisis.
In a preface to its Climate Crisis Action Plan, the committee acknowledged that its recommendations come at a time when the U.S. is reeling from the coronavirus disease 2019 (COVID-19) pandemic. But it added that the proposed solutions, including "building and rebuilding America's energy, transportation and manufacturing infrastructure" to emit less carbon and be more resilient to climate change "offer on opportunity to propel the economy forward."
"Solving the climate crisis is hard work, but it provides a pathway to millions of good-paying, high-quality jobs that can fortify and expand America's middle class.
The proposals include requiring electric utilities achieve net-zero carbon emissions by 2040 and mandating that automakers sell only electric vehicles by 2035. Further, the plan calls for investments in infrastructure, agriculture, public health, disproportionately exposed communities and protections for land, water, oceans and wildlife.
The report, however, still sees a role for biofuels, including ethanol, biodiesel, renewable diesel, advanced biofuels, renewable natural gas and cellulosic biofuels, which are mentioned more than a dozen times.
The plan cites the 2022 transition year of the Renewable Fuel Standard (RFS) as an opportunity to "build on the RFS and transition to a program that encourages the development and production of liquid fuels that meet certain carbon emissions standards." Starting in 2023, congressionally set mandatory blending volumes expire and EPA will have a greater role in determining annual renewable fuel blending targets.
The report provides an overview of California's LCFS program and makes recommendations for how it might work on a nationwide scale. While the plan emphasizes the importance of a transition to zero-emissions technologies and electric vehicles, it said a nationwide LCFS should be established to help curb pollution from transportation fuels. The report also mentioned the proposed framework for a Midwest Clean Fuel Standard, which was released by the Great Plains Institute in January.
The committee also recommended that until Congress creates a national LCFS program, it should direct EPA "to complete any necessary rulemakings or other administrative steps necessary to allow the generation of eRINs for biogas-derived electricity used as a transportation fuel."
The agency is being sued for its failure to approve such projects to receive credits under the RFS. California's LCFS allow renewable electricity used in transportation to generate program credits.
In addition, the plan calls for the broad deployment of carbon capture and storage (CCS) technologies and incentives for increasing carbon sequestration in agriculture.
The report was welcomed by biofuels industry groups, including ethanol groups which earlier opposed California's LCFS because they saw it as a threat to ethanol's place in the transportation fuel mix.
"RFA continues to analyze the report, but at first blush we are highly encouraged by the Select Committee's acknowledgement that renewable fuels like ethanol can play an important role in reducing the carbon impacts of our nation's transportation sector in the future," Renewable Fuels Association (RFA) President and CEO Geoff Cooper said in a statement.
"RFA agrees with the committee that widespread use of liquid fuels and internal combustion engines will continue for decades to come, and we welcome the recommendation to create a nationwide technology- and feedstock-neutral Low Carbon Fuel Standard.
"The Committee correctly points out that the LCFS policy model already has a proven track record and that renewable fuels have played a crucial role in achieving the objectives of the California LCFS. We also concur with the committee's position that high-octane, low-carbon fuels could deliver substantial carbon benefits at a low cost in the years ahead," Cooper added.
Growth Energy CEO Emily Skor pointed to data showing that U.S. ethanol reduces carbon emissions by 39% or more and that the recorded carbon intensity (CI) of ethanol has declined nearly 33% since 2011. Further, she said biofuels have so far delivered nearly 80% of carbon reductions under California's LCFS program.
"We appreciate the hard work of lawmakers seeking to accelerate our progress toward a healthy climate and are pleased that this report recognizes that a zero-carbon future must include all clean transportation solutions -- from ethanol to electric vehicles," Skor said. "We stand ready to explore policies and opportunities which showcase low-carbon, liquid fuels' role in reducing emissions and pollution, and driving innovation for low-to-zero carbon renewable fuels."
American Coalition for Ethanol (ACE) CEO Brian Jennings also commended the committee for including its recommendation that Congress should develop an LCFS program.
"It is gratifying so many in Congress are recognizing that increasing the use of ethanol is part of the solution to further reduce greenhouse gas (GHG) emissions," Jennings said. "Properly crafted low carbon fuel policy built on top of the Renewable Fuel Standard's success in beginning to break our country's reliance on petroleum is one of the most meaningful things Congress can do to address climate change."
The full report is available at: https://climatecrisis.house.gov/report, and click on "Read the entire report."
--Reporting by Jordan Godwin, jgodwin@opisnet.com;
--editing by Jeff Barber, jbarber@opisnet.com
Copyright, Oil Price Information Service
---
EPA to Propose Splitting 500-Million-Gal RFS Remand in 2021, 2022: Sources
June 16, 2020
EPA is expected to propose as early as next month a 250-million-gal increase in the 2021 Renewable Volume Obligation (RVO) and another 250-million-gal boost in the 2022 RVO to comply with a remand order the U.S. Court of Appeals for the District of Columbia Circuit issued nearly three years ago, according to several sources familiar with the agency's plans.
Sources said EPA will likely propose adding the first 250-million-gal increase through a "supplemental RVO" and will follow that with an identical boost in 2022.
The agency submitted its proposed 2021 Renewable Fuel Standard (RFS) targets to the White House Office of Management and Budget (OMB) for review on May 13. OMB review typically takes 30 days to complete, and EPA has traditionally published its proposals within six to eight weeks of sending them to OMB, meaning the agency is likely to make the proposed blending targets public sometime in the first two weeks of July.
The D.C. Circuit in a July 2017 ruling found that EPA erred when it broadened the RFS definition of inadequate domestic supply of biofuels to include "real-world constraints," including the E10 blendwall and the market's ability to consume increasing volumes of renewable fuels to justify cuts to the 2014-2016 RVO below levels set by Congress.
In releasing its draft 2020 RVO last summer, EPA, however, said it did not plan to increase the annual blending targets to account for the court's ruling, saying such a retroactive adjustment would be "unduly burdensome and inappropriate" and would do little to encourage additional biofuels production.
The more likely result of such a step, it added, would be a drawdown on the number of banked Renewable Identification Number (RIN) credits, a step it characterized as inappropriate.
But the agency appeared to change its mind when it issued the final 2020 RVO in December, saying then that it intended to address the remand in a "separate action" that it planned to issue early this year, citing the number of comments it received on the issue. EPA has yet to detail that action as the midpoint of 2020 approaches.
The biofuels industry has been urging EPA for years to make good on the 2017 court ruling.
Renewable Fuels Association (RFA) President and CEO Geoff Cooper has repeatedly pressed EPA to increase RVOs by 500 million RINs to comply with the court's ruling. RFA Chief Economist Scott Richman urged EPA in public testimony last summer on the proposed 2020 RVO to either increase this year's blending target by 500 million gal or spread the requirement across the 2020 and 2021 compliance years.
"EPA has also thumbed its nose at the DC Circuit, which ruled that EPA must address the illegal waiver of 500 million gallons in the 2014-2016 RVO," Growth Energy Vice President of Regulatory Affairs Chris Bliley said in testimony he presented on the proposed 2020 RVO. "We've waited for two years and what has EPA done to address those lost gallons? Absolutely nothing, saying that it is too difficult."
Should EPA decide to add the remanded gallons to the 2021 and 2022 RVOs, values for D6 ethanol RINs may head higher. Such an increase, according to one RIN trader, could lead to a "pop" in RIN credit prices.
"If you tell refiners they're finally going to be on the hook for those 500 million RINs, I'd definitely expect to see more buying," he said. "Maybe even a jump in prices."
Ethanol-related D6 RINs values in early June topped 50cts for the first time since March 2018 when the Trump administration approved a record number of small-refinery exemption (SRE) requests that for a time pushed credit prices below the 10ct mark.
Values have recovered steadily this year since the 10th U.S. Circuit Court of Appeals in January ruled that the agency exceeded its authority when it granted three SREs for the 2016 and 2017 RFS compliance years and improperly considered factors other than the cost of RFS compliance when it was determining whether the refiners were suffering disproportionate economic hardship. The agency has yet to say whether it will apply the 10th Circuit's ruling nationwide.
"The agency has ignored this issue for long enough," Advanced Biofuels Association (ABFA) President Mike McAdams said. "Responding to the federal court's direction from 2016 to offset what occurred to the tune of 500 million RINs is totally justifiable. Every little bit helps for our industry."
Iowa Renewable Fuels Association (IRFA) Executive Director Monte Shaw said Monday he wants to see the fine print of any plan by EPA to make good on the court's remand.
"We've never demanded it, but any notion that you couldn't do this in one year is a little bit silly considering they're sitting on over a billion RINs in the piggybank, which the 10th Circuit Court ruled shouldn't be there," Shaw said.
"Enforcing the court ruling is great, but it won't be meaningful if they continue to skirt the law of the RFS with new provisions. You've got to look at the overall picture."
--Reporting by Jordan Godwin, jgodwin@opisnet.com;
--Editing by Jeff Barber, jbarber@opisnet.com
Copyright, Oil Price Information Service
---
Citing COVID-19 Harm, Five States' Governors Ask EPA to Waive RFS Obligation
April 16, 2020
Five refining-state governors have asked EPA Administrator Andrew Wheeler to grant an "appropriate waiver" of the Renewable Fuel Standard's (RFS) 2020 biofuel blending targets, citing the economic downturn caused by the coronavirus 2019 (COVID-19) pandemic.
In Wednesday letters, the governors -- Republicans Greg Abbott of Texas, Gary Herbert of Utah, Kevin Stitt of Oklahoma, Mark Gordon of Wyoming -- said the RFS allows the agency to waive an annual Renewable Volume Obligation when it determines that meeting the requirements could cause severe economic hardship to a state, region or the nation. The governors said EPA must take into account the state of the refining sector, which is with sharp declines in gasoline and jet fuel demand as more people stay at home in an effort to limit the virus's spread. Louisiana Democratic Gov. John Bel Edwards submitted his request to EPA on April 7.
"It must then determine whether the implementation of the current RVO, including costs associated with the recent tripling in the price of renewable identification numbers (RINs), present a clear threat to the industry under such circumstances; and then, upon determining whether harm inflicted on a sector as vital as refining and allied aspects of the refining supply chain, constitute an appropriate basis for granting a waiver under the cited provision," the Republican governors' letter said.
State governors have made similar requests in the past, most recently in 2018, but EPA administrators -- including Scott Pruitt -- has denied the requests saying they had contained insufficient analysis and information to demonstrate the RVO was causing "severe economic harm."
"In the past, EPA has failed to grant waivers at the request of governors based on adequacy of documentation," the governors said in their letter. "However, current extraordinary circumstances represent a material change in condition since the last time EPA entertained such requests."
The governors also said the Clean Air Act does not require that the waiver request be limited to situations in which the harm associated with RFS compliance is the only source of stress on the economy. The governors argued that severe harm to the energy economy is expected to result from depressed demand for transportation fuel.
"For many U.S. refineries, RFS compliance has been one of their top annual operating costs - even higher than employee payroll," American Fuel & Petrochemical Manufacturers (AFPM) president and CEO Chet Thompson said in a statement. "This is an indefensible burden, especially now as COVID-19 has upended the market for gasoline and refined products and the refining industry nationally is running at low enough capacity that facilities are being forced to idle.
"Governors recognize the threat the RFS poses to the health of America's refining sector and momentum is building in the states to push back. AFPM is supportive of these governors' efforts to stand up for the women and men in our industry who are keeping America's refineries online. We urge Administrator Wheeler to listen to them. Refineries are critical national security assets and cannot afford the unachievable RFS on top of COVID-19."
Biofuels groups didn't share Thompson's view.
"It's clear they know absolutely nothing about how the Renewable Fuel Standard actually works," Renewable Fuels Association (RFA) President and CEO Geoff Cooper said in a Thursday statement. "They outrageously claim that a waiver is needed because of 'depressed demand for transportation fuel.' But because EPA translates the RFS into a percentage each year, the renewable fuel blending requirements already adjust in tandem with changes in gasoline and diesel consumption. So, if COVID-19 causes 2020 gasoline and diesel demand to drop 15 percent, for example, the renewable fuel blending requirements drops by the exact same amount.
"In any event, the EPA has no authority to grant relief when the RFS itself is not the cause of the 'severe economic harm,' a fact that has been reconfirmed by EPA multiple times in the past when it denied similar nonsensical waiver requests. The governors themselves acknowledge the problems facing refiners today are driven by COVID-19 and cratering oil prices, not the RFS. These same factors are impacting the ethanol industry as well, and to an even greater extent: Nearly half of the nation's ethanol production capacity has been idled as a result of falling gasoline demand. A general waiver at this point would only serve to close more ethanol plants and kill more jobs across rural America."
"This is an offensive attempt by refiners to steal markets from struggling biofuel producers and farmers," Growth Energy CEO Emily Skor said. "Any move to unravel the RFS now would dim any hopes of economic recovery in rural America, where so many in the U.S. biofuel industry have been impacted by furloughs and plant closures, and millions of farmers are struggling to stay afloat.
"We've seen the courts reject this kind of abuse before. Even oil companies admit that biofuel credits don't impose a real cost on refiners. We see this as a non-starter and call on this administration to focus on restoring - not destroying - rural jobs."
"EPA has no other choice than to reject this most recent ploy to waive the RFS based on precedent from previous waiver appeals in 2008 and 2012 which require EPA to determine that the RFS itself must be proven to be the cause of severe economic harm to justify a waiver, not outside factors such as coronavirus or a drought," American Coalition for Ethanol (ACE) CEO Brian Jennings said. "The RFS is clearly not the cause of the economic catastrophe brought on by coronavirus and the Saudi-Russian oil price war, and the oil industry should direct its blame elsewhere.
"We remind the Administration that oil refiners are not the only ones suffering from the economic fallout of the current situation. Ethanol producers, and the farmers supplying them corn, are suffering a proportional economic disaster.
EPA should in fact do the opposite of the governors' request and issue an interim rule to increase the RVO for 2020 to the percentage necessary to ensure that the full 20.09 billion gallons required by law are used."
University of Illinois economist Scott Irwin warned of the waiver scenario in an interview with OPIS last week.
"If there was ever a time where you could make that case, it has to be now," Irwin said. "It has to be severe economic harm to the nation. I think they would have a dramatically more receptive ear to that argument in the Trump Administration than the last time."
--Reporting by Jordan Godwin, jgodwin@opisnet.com;
--Editing by Jeff Barber, jbarber@opisnet.com
Copyright, Oil Price Information Service
---
RINs Hold Up as Energy Prices Falter; Analysts Say Credits Are Undervalued
April 14, 2020
As energy prices have tumbled in the wake of the coronavirus disease 2019 (COVID-19) pandemic, one commodity -- Renewable Identification Number (RIN) credits under the Renewable Fuel Standard (RFS) -- has largely gone unscathed.
From March 1 to April 1, front-month WTI crude oil futures fell nearly 57%, RBOB gasoline futures dropped 65%, and ethanol futures declined by 35%.
Although 2020 vintage ethanol-related RINs D6 RINs dipped about 20% over the same period, they were assessed by OPIS on April 13 at 37.5cts, a half cent above the March 2 assessment and just 2.5cts under a two-year high of 40cts hit on March 5.
"They're like cockroaches in a nuclear war," one trader joked about RINs' immunity from the broader market downturns.
In fact, the trader and several other market sources said they consider RINs to be undervalued, largely because the credits are the currency of compliance under the RFS program that is driven more by policy and legal directives than the traditional rules of supply and demand.
"Since the EPA hands refiners and obligated parties percentages to meet their renewable fuels obligations, when the demand for gasoline and diesel decline, the demand for ethanol and biodiesel is also going to decline because the percent is based on each gallon," Andy Lipow, president of Houston-based consultant Lipow Oil Associates, said. "As a result, unfortunately for the renewable fuel groups, they're seeing a drop in demand that is in line with the drop in the demand for gasoline and diesel. That mitigates any upward pressure on the industry having to buy RINs."
But Lipow said that because the decline in gasoline values have greatly outpaced the drop in ethanol prices, he believes current RIN values appear to be "pretty weak." On March 9, RBOB gasoline futures for the front-month contract shed nearly 25cts while ethanol futures fell less than 3cts, pushing gasoline futures below ethanol futures for the first time in nearly three years.
The last time ethanol futures held a premium to gasoline futures -- July 2, 2017 -- D6 RINs were assessed by OPIS at 73cts, nearly double their current levels.
Ethanol's premium to gasoline approached 50cts at its widest spread in mid-March but has since slipped back to about 20cts. When ethanol holds a premium to gasoline, the financial incentive of higher blends of ethanol such as E15 and E85 is reduced and even E10 blends can come under pressure if a refiner can buy RINs rather than blend ethanol with gasoline, one analyst said.
But the analyst said that at least so far through the demand destruction brought on by the widespread stay-at-home orders, the decline in ethanol demand has closely matched the decline in gasoline demand, a sign that blend rates are holding relatively steady.
In addition, even when ethanol is priced at a premium to gasoline, the biofuel's value as an octane booster is more influenced by how it compares with the cost of the alternative oxygenate aromatics, which -- even with the sharp drop in upstream crude oil prices -- are still more expensive than ethanol, according to analysis from University of Illinois economist Scott Irwin.
So, if blend rates and the refiner appetite for RINs stay balanced, the main driver of RINs values becomes what the market has been watching closely for the last two months -- how the Trump EPA will handle the 10th U.S. Circuit Court's January ruling that most agree severely limited the agency's ability to grant small-refinery exemptions from the RFS.
EPA decided against appealing the ruling and the court last week denied an appeal from refiners HollyFrontier and CVR Energy. The refiners have 90 days from April 7 to appeal to the Supreme Court, a move that is being considered, according to the Fueling American Jobs Coalition (FAJC), which represents merchant refiners, refinery unions and small fuel retailers.
Lipow and Irwin agree there is a very low probability such an appeal will succeed, and both are convinced SREs, which have slashed RIN demand and prices over the past several years, will effectively end.
Irwin said that if the EPA were to apply the 10th Circuit Court ruling nationwide and not just the six states under the scope of the ruling, then the SRE program would be over.
If that happens, refiners who oppose the RFS are already gearing up to demand EPA adjust its final 2020 Renewable Volume Obligations (RVO), which was increased to account for volumes the agency expected to waive through SREs.
"That's the big question right now, and that of course, has to be factored into RINs pricing as well," Irwin said. "I've learned to never underestimate the clever lawyers out there, but it'd be very difficult to find a pathway to do that. Either they're going to have to have a reversal at the Supreme Court or it's dead."
Irwin believes D6 RINs prices should be at parity with D4 biomass-based diesel RINs, under the assumption that the SRE program is finished and the 2020 RVO will be enforced without change. D4 RINs have lately held a premium of 20-25cts over the D6 RINs.
"When the conventional ethanol mandate is above the E10 blend wall, the value of a D6 RIN effectively becomes the value of a D4 RIN because biodiesel becomes the marginal gallon to fill that conventional ethanol mandate," Irwin said. "I think there's a sense of safety because EPA said last year there's a roughly 3-billion RINs [bank], but in aggregate, that RINs stock has effectively disappeared with the additional obligation that has been imposed with the disappearance of the SRE program."
Irwin said he believes some trends could develop in the coming weeks and months as energy markets struggle to adjust to the pandemic.
"We are clearly in an environment of what I call, 'spiky economic behavior,'" Irwin said. "When you turn this economic machine back on, there will inevitably be some difficulties getting things turned back on at the same rate. The whole system really runs on a just-in-time inventory approach. We don't realize how tightly calibrated that system is. We've never done anything like this before.
You run out of adjectives to describe what we're dealing with. Turning the key back on is going to be very interesting."
--Reporting by Jordan Godwin, jgodwin@opisnet.com;
--Editing by Jeff Barber, jbarber@opisnet.com
Copyright, Oil Price Information Service
---
Aemetis Ships Ethanol for Hand Sanitizer, but Demand Impacts Seen as Limited
March 20, 2020
Aemetis on Friday said it has begun shipping 200-proof alcohol to hand sanitizer manufacturers, but ethanol industry experts say that despite the spike in demand because of coronavirus disease 2019 (COVID-19), the product is unlikely to offer much of a lifeline to ailing ethanol producers.
The Cupertino, Calif.-based company said its 65 million-gal/year plant near Modesto is sending its product for hand sanitizer production just two days after the U.S. government granted exemptions to allow certain alcohol fuel permit holders to sell ethanol for use in hand sanitizer, according to a statement from the U.S. Treasury's Tobacco Tax and Trade Bureau (TTB). The company did not disclose volume information.
The moves came amid a sharp rise in demand for hand sanitizer due to the COVID-19 pandemic.
"Aemetis is moving quickly to help address the significant demand for hand sanitizer products in light of the COVID-19 pandemic during this time of national emergency," said Andy Foster, president of Aemetis Advanced Fuels Keyes. "As the [World Health Organization and the Centers for Disease Control and Prevention] strongly recommend the use of hand sanitizer products to help prevent the spread of coronavirus, Aemetis is utilizing our ethanol production capability to address the current shortage of hand sanitizer by increasing the supply of high-proof alcohol used in the manufacturing of sanitizer products."
On a Thursday conference call with reporters hosted by the Renewable Fuels Association (RFA) to discuss challenges facing the industry, Chippewa Valley Ethanol Company General Manager Chad Friese said that making the grade of ethanol for hand sanitizer requires a completely different specification from that for the fuel market.
Friese said most ethanol facilities are not designed for this type of production, which requires pharmaceutical-grade ethanol. Friese added that the producers turning to this option also could run into problems transporting the product and cautioned that plants' ability to operate may be compromised by the coronavirus outbreak.
The newfound demand for ethanol for hand sanitizer production comes at a painful time for U.S. ethanol producers. With the broader energy complex tumbling in recent weeks, ethanol prices plunged to record lows -- on Tuesday and Wednesday, every OPIS ethanol assessment reached all-time lows, with Chicago Argo ethanol being assessed below $1/gal for the first time in the assessment's nearly 17-year history.
As a result, margins have trended deep into negative territory, also hitting levels never before seen. One trader estimated that by the end of March, ethanol producers will likely face losses around 30cts for every gallon produced, down from slim but positive margins around 5cts/gal at the beginning of the month.
"This will not be the industry's savior," the trader said about the demand for ethanol to be used toward hand sanitizers.
The trader stressed that any new demand for hand sanitizer would still be sharply exceeded by demand losses tied to the drop in gasoline consumption.
Blender net input demand for the week ending March 13 was at 915,000 b/d, down just 4,000 b/d from the previous week and slightly above the year-ago level of 909,000 b/d. Most industry watchers, however, believe that number will decline significantly in coming weeks.
Another trader said the vast majority of ethanol plants are not set up to store 200-proof ethanol and the move would require major capital investment. Most plants load from big tanks that have corrosion inhibitors, which cannot be in human contact products so a producer would need to load from a special tank, the trader said.
--Reporting by Jordan Godwin, jgodwin@opisnet.com;
--Editing by Jeff Barber, jbarber@opisnet.com
Copyright, Oil Price Information Service
---
Biofuel and Farm Leaders Continue to Press White House on SRE Court Ruling
March 11, 2020
Midwestern biofuel and agricultural officials on Wednesday kept up their campaign to persuade the Trump administration against appealing a January ruling by the 10th U.S. Circuit Court of Appeals that would all but eliminate EPA's ability to grant small refiners economic hardship waivers for compliance with the Renewable Fuel Standard (RFS).
Geoff Cooper, president and CEO of the Renewable Fuels Association (RFA), an ethanol industry trade group, said in an interview that the Trump administration's request to the court for a two-week extension of the appeals filing deadline came as a surprise.
"I think all the indications we have been getting led us to believe that the EPA would not be seeking an appeal, and that EPA would be taking steps to apply the decision nationally," Cooper said. "We felt like things were headed down the right track until late last week."
The U.S. Department of Justice late Friday asked the 10th Circuit to extend the March 9 deadline for appeals by 15 days. On Monday, the court granted the request. In its filing DOJ said the administration had not yet made a decision on whether it would appeal, but wanted additional time to consider the ruling.
In its Jan. 24 ruling, a three-judge panel on the 10th Circuit directed EPA to revoke three small refiner exemptions it granted to HollyFrontier and CVR Energy for the 2016 and 2017 RFS compliance years, finding that the agency exceeded its authority in approving the waivers because the Clean Air Act prevents it from extending exemptions to any small refineries whose earlier waivers had lapsed.
The court also found that in granting the waivers, EPA exceeded its statutory authority by considering economic hardship "caused by something other than compliance" with the RFS.
While the ruling affects only those refineries within the 10th Circuit's jurisdiction, program observers said EPA would find it difficult not to apply the decision nationally, a move that would all but eliminate the SRE program.
Since 2017, the agency has granted 85 SRE petitions, a sharp increase over the numbers approved in earlier years.
In a call with reporters on Wednesday, biofuel and farm officials voiced frustration with the administration's decision to ask the court for more time to consider whether it will appeal the ruling to the full circuit court.
Kevin Ross, an Iowa corn farmer and board president at the National Corn Growers Association, said farm groups had formed a "united front" on the issue and were ready to move along with the ruling.
"We were very excited to see the way this came back a few weeks ago, but we certainly don't believe that any appeals are necessary in any case as this was a three to zero decision and the likelihood of overturning any of those is very slim," Ross said.
Ross said he felt the EPA should apply the decision nationally "as they are supposed to."
The administration's decision to request an extension was especially confusing given U.S. Agriculture Secretary Sonny Perdue's public comments two week ago that he believes EPA should apply the ruling nationally, they said.
"Just a couple of weeks ago at the Commodity Classic, thousands of us applauded when Secretary Perdue assured farmers that this court case would finally end EPA's demand destruction," Dave Walton, a soybean farmer from Wilton, Iowa, said.
"Make no mistake, this decision could derail rural recovery at a time when we are already struggling to maintain a positive profit margin."
Should the administration choose to appeal the ruling, most in the biofuel and legal communities believe it unlikely the full 10th Circuit will overturn the panel's finding. But Cooper said the time it would take to complete the process would add to the already-considerable uncertainty in ethanol and farm markets.
"We know that we would have 14 days from the date of a rehearing request being filed to respond to that request, and then following that it could take the court a matter of weeks or even months to decide whether they want to grant a rehearing and rehear the case," Cooper said. "So, it could be summer before we would know if the court would want to rehear the case, or denies the request from EPA and the refiners."
Further, it is unclear how EPA will treat the nearly two dozen pending petitions for SREs for the 2019 compliance year should it file an appeal.
"There are currently 23 pending petitions for the exemptions, and we believe thoroughly that this ruling prevents the EPA from granting those petitions," Erik Huschitt, CEO and general manager of Badger State Ethanol, said.
Cooper said the agency could elect to deny all of the petitions based on the court's January ruling, but lacks the legal authority to grant any before the final outcome of the court's ruling has been decided.
"If they are leaning toward approval of any of those petitions, it is our strongly held position that they need to delay any action until that all plays out," he said.
The biofuel producers and farmers on the call said a decision by the administration to accept the court's ruling would be an opportunity for President Donald Trump to generate some election-year good will in the politically important Midwest.
"On the countryside we talk about this issue a fair amount, and the support for Trump comes and goes based on issues and how they affect agriculture," Walton said. "President Trump vowed to protect the RFS and now he needs to stand up."
--Reporting by Patrick Newkumet, pnewkumet@opisnet.com;
--Editing by Jeffrey Barber, jbarber@opisnet.com
Copyright, Oil Price Information Service
Ethanol Producers Ask Whether It's Time for Growth Energy, RFA To Merge
February 13, 2020
After suffering through nearly two years of tough market conditions and efforts in Washington to weaken the Renewable Fuel Standard (RFS), a number of ethanol producers are asking whether it's finally time for the industry's two largest trade groups -- Growth Energy and the Renewable Fuels Association (RFA) -- to combine operations.
Such a consolidation, the producers said, would save money at a time when the industry is increasingly strapped for cash and could strengthen ethanol's clout in Washington.
Multiple sources interviewed by OPIS said talks have ramped up in recent months over the possibility of trying to bring the two groups together to cut down on membership dues and other costs.
"I think there is a fair amount of interest among the different industry associations and a number of the different plant members that are in different associations," said Mark Marquis, CEO of producer Marquis Energy and Growth Energy board member. "I think there is a fair amount of appetite for, 'Could we be more effective, have a more united voice, a stronger voice? Could we be more cost effective if we could find a way to operate more closely as an industry?'
"I think there is an appetite out there for that."
RFA was founded in 1981, and Growth Energy was established in 2008. While discussions about the possibility of merging the two organizations have periodically cropped up over the past 10 years, they have not advanced.
Industry sources, however, said that while such conversations have resumed, they could not confirm whether representatives from Growth Energy or RFA were involved. One producer source said the topic has not been discussed with members of either group in any official board meetings or conference calls.
Two sources, who asked not to be identified, confirmed that a group of 20 to 30 producers met last summer in Chicago to talk about whether they should press the two groups to merge. A straw poll taken at the meeting showed the industry was split over a combination, with half favoring it and the other half supporting the current arrangement.
Growth and RFA believe the current arrangement is working and that the two groups have repeatedly and effectively joined forces on key industry initiatives.
"RFA continues to closely collaborate and cooperate with all other trade associations and renewable fuel advocates, and we believe the industry is more unified and better organized today than ever before," an RFA spokesman told OPIS. "Our recent policy successes -- from securing year-round E15 approval to ensuring SREs [small refinery exemptions] are prospectively reallocated -- simply would not have been possible without complete solidarity and a consistent message.
"We remain committed to ensuring there is no confusion about the ethanol industry's goals and priorities, and we continually strive to improve communication and coordination with all partners and allied organizations."
Growth echoed RFA's position. "As we saw last fall, we are a force to be reckoned with when we work together, and Growth Energy remains committed to working alongside all of our allies to advance the industry's priorities," a spokeswoman said.
Marquis said it's still unclear how a consolidation -- should it happen at all -- would occur. But he said there have been talks about the possibility for at least a year.
"I think it is possible in 2020 to have some realities of unification across the ethanol producer industry," he said. "I don't know how I would handicap it as far as odds, but I think there is reason to be optimistic that 2020 could be a year of getting stronger and more efficient as an industry."
While a consolidation could provide cost savings, a number of producers said they believe a combination could give the industry a greater voice in Washington, particularly at a time when the Trump administration has adopted policies -- chiefly, a sharp increase in the number of EPA-approved SREs from the Renewable Fuel Standard (RFS) -- that has caused values for Renewable Identification Number (RIN) credits to plunge. That issue, however, could go away this year depending on how EPA decides to respond to last month's ruling from the 10th U.S. Circuit Court of Appeals that has thrown into doubt the agency's legal authority to grant the waivers.
"I think we as an industry saw last September when we were working with the White House on some of the RFS items that when we were able to align all of the ethanol advocacy groups as well as corn growers and some of the other organizations that fell in line to support agriculture, that's when we got the best support of our senators," one producer executive said. "The more alignment we can have allows all of our champions to do their jobs better, and I think it is better for all of us."
Another producer said the conversations among members aimed at trying to accomplish a merger are not new but could continue to intensify as the industry faces new obstacles from Washington or further financial woes.
"We are always interested in seeing unity in the industry," the producer said.
"Both organizations have a lot more in common than not, so if it can be determined that there would be greater strength and more impact from coming together and working together closely, that would serve our industry very, very well."
The push by some in the industry toward a consolidation of Growth and RFA comes as producers endured two of their worst years in 2018 and 2019.
A representative Iowa ethanol plant saw average losses of about $1.6 million in 2019, following estimated losses around $2.2 million the year before as higher production and the continued loss of China as an export market dragged down prices, University of Illinois economist Scott Irwin said this month. Multiple plants were either forced to cut production rates or shut down.
Should the industry margins remain under pressure or should it continue to confront new challenges to the RFS, some producers appear to be convinced that having a single voice in Washington may be the best course.
"I think there is a need to be more efficient and to not have two messages out there that are confusing," Marquis said. "We don't want to get too many competing or confusing messages to keep us from being effective in the marketplace and in the political world."
--Reporting by Jordan Godwin, jgodwin@opisnet.com
--Reporting by Michael Schneider, mschneider@opisnet.com
--Editing by Jeff Barber, jbarber@opisnet.com
Copyright, Oil Price Information Service
---
Ethanol Groups to Meet With EPA Next Week to Discuss SREs' Future: Sources
February 12, 2020
HOUSTON -- Ethanol industry officials are scheduled to meet next week with EPA on how the agency may respond to last month's 10th U.S. Circuit Court of Appeals ruling revoking three small refinery exemptions (SREs) and are expected to press the agency to apply the decision nationally, according to sources attending the National Ethanol Conference here.
Much of the discussion on the sidelines of the conference focused on how the U.S. Environmental Protection Agency will administer the SRE program in the wake of the court's decision. At next week's meeting -- which multiple sources described as a "negotiation" -- the industry groups are expected to ask EPA to apply the ruling on a national scale, a step that could effectively end the SRE program.
The groups involved in the lawsuit that led to the court's ruling include the Renewable Fuels Association (RFA), the American Coalition for Ethanol, the National Corn Growers Association and the National Farmers Union.
"Our hope is that the agency sees the light of day on this, to do the right thing and phase out the program that Congress always intended to be short-lived," Matthew Morrison, counsel to the RFA, said in a presentation National Ethanol Conference on Tuesday.
The 10th Circuit's ruling applies to all new exemption decisions within six states covered by the 10th Circuit -- Colorado, Utah, Wyoming, Kansas, Oklahoma and New Mexico, Morrison said. Those states make up about one-third of total small refinery capacity or roughly 650,000 b/d, Morrison said.
But if the ruling were applied nationally by EPA, Morrison said he believes there would be only seven small refineries eligible to receive exemptions. He said those "lucky seven" refineries were those that received exemptions in 2015. While the identities of those refineries have not been made public, multiple sources said they believe five of them have since ceased operations and the other two have had their exemptions lapsed, meaning they would no longer be eligible to receive new exemptions.
If that's the case and if EPA were to apply the court's ruling nationally, it could mean an effective end to the SRE program, sources said.
"I wouldn't even call that the 'dream scenario,' " one source said. "That's what should happen."
Another industry source said the ethanol groups plan to press EPA to require the three refineries -- HollyFrontier's Cheyenne and Woods Cross refineries and CVR's Wynnewood facility -- whose hardship waivers were overturned by the court to make good on the excused blending obligations for 2016 and 2017, mostly likely by acquiring additional Renewable Identification Number credits.
In remarks he made at the conference on Tuesday, Morrison said that applying the ruling nationally would avoid creating an uneven playing field for refiners, be consistent with agency precedent, avoid regulatory complexity and restore stability to the RFS program.
The number of SREs granted by EPA has increased dramatically under the Trump administration. The agency granted 19 of 20 SRE petitions in 2016, 35 of 36 eligible and maintained petitions in 2017, and 31 of 37 eligible and maintained petitions in 2018. There have been 21 petitions for 2019 exemptions filed so far, according to the most recent EPA data.
--Reporting by Jordan Godwin, jgodwin@opisnet.com
--Editing by Jeff Barber, jbarber@opisnet.com
Copyright, Oil Price Information Service
---
Ethanol Industry Should Push for Low-Carbon Octane Standard: RFA CEO
February 11, 2020
HOUSTON -- The U.S. ethanol industry should push for a Low Carbon Octane Standard to help the industry continue to grow demand for its fuel, Renewable Fuels Association (RFA) President and CEO Geoff Cooper said Tuesday.
In his state-of-the-industry address at the 25th National Ethanol Conference (NEC), Cooper said a new standard focusing on ethanol's octane benefits could provide the growth the industry needs.
"As we write the next chapter of renewable fuels policy, RFA and its allies believe ethanol has a tremendous opportunity to serve as the key ingredient of a future high-octane, low-carbon fuel that delivers significant benefits to American consumers," Cooper said.
He said two key features of the program include establishing a minimum octane standard for gasoline, preferably at the 98 RON level, and a requirement that the octane boost comes from sources or processes that reduce lifecycle greenhouse gas (GHG) emissions from a hydrocarbon baseline.
Cooper said the program would include provisions to remove or repair what he called "problematic regulatory barriers" including ensuring parity in the regulation of volatility for all ethanol blends, improving EPA's fuel certification process and substantially revising and updating EPA emissions modeling tools.
"In addition, the policy would stimulate competition and flexibility by compelling the transition of retail infrastructure to accommodate higher ethanol blends like E25 or E30," Cooper said. "Finally, the program would restore the incentive for automakers to build more flex fuel vehicles and engines optimized for higher blends of ethanol."
Cooper's call for a low-carbon, nationwide octane standard comes after the biofuels industry largely rejected a bill proposed by two U.S. House Republicans in late 2018 that would have required automakers to warranty their vehicles to run on 95 RON octane and ethanol blends of up to 20% starting with the 2023 model year.
In exchange, the proposal would have amended the Renewable Fuel Standard (RFS) program to end the annual conventional ethanol mandate after 2022 and phase out the rest of the program for advanced and cellulosic biofuels and biomass-based diesel after 2032.
The industry was concerned that the proposed octane standard would not allow ethanol blends above 20% to enter the market and that the measure would not bar refiners from turning to other, non-ethanol octane boosters. They also said the proposal would not provide the industry with the same market certainty and growth potential as the RFS.
Cooper told OPIS that he doesn't necessarily view the proposed low-carbon high-octane standard as a replacement for the RFS.
"We aren't looking at a low-carbon octane standard as a replacement for the RFS, we see it as something that could layer very well on top of the RFS or a complimentary renewable fuel standard," Cooper said. "Again, the intent is that the source of octane ought to be clean renewable fuel, and if you have the RFS as sort of a backdrop it helps to ensure that. "
Cooper's support for a high octane standard comes after a rocky year for the industry.
Cooper said demand took a hit from the rampant small refinery exemptions (SREs) granted by the Trump administration's Environmental Protection Agency under the Renewable Fuel Standard (RFS).
"We expected that the RFS and burgeoning export markets would continue to drive the incremental demand growth that our industry had become so accustomed to over the past decade," Cooper said. "We planned for growth. You invested in growth. But it simply didn't materialize in 2019."
Cooper said U.S. ethanol ended a six-year streak of growth in 2019, as output dropped 300 million gal in 2019 at 15.8 billion gal.
Overall ethanol exports fell by 13%, or 200 million gal, Cooper said, while imports reached a six-year high on account of 200 million gal of Brazilian ethanol flowing into California ports.
He added that although poor weather contributed to a drop in ethanol output, he mostly attributed the loss to "a disaster of an entirely different sort: policy uncertainty, bureaucratic meddling, and vexing marketplace barriers."
Cooper also criticized "protectionist trade barriers" that he said shut off access to the Chinese market and reduced shipments to Brazil by 32% from 2018.
Despite ongoing issues of trade and domestic uncertainty, Cooper noted President Donald Trump's directive eliminating summertime restrictions made it clear that "we were definitely heading in the right direction as the year came to a close."
He expressed optimism for the industry, citing congressional approval of the U.S.-Mexico-Canada trade agreement, passage of a spending bill that extended key biofuels tax provisions, the announcement of a phase one trade deal with China and a commitment from the administration to invest more in E15 as milestones that would not have been possible without "our industry maintaining its focus and tenacity."
--Reporting by Patrick Newkumet, Patrick.newkumet@ihsmarkit.com and Jordan Godwin, Jordan.godwin@ihsmarkit.com;
--Editing by Jeff Barber, jbarber@opisnet.com
Copyright, Oil Price Information Service
---
EPA Targeting Dec. 20 Release of Final 2020 Renewable Fuel Volumes
December 3, 2019
DANA POINT, Calif. -- EPA is targeting a Dec. 20 release of its final 2020 Renewable Volume Obligation (RVO) rule, agency officials have told biofuel industry representatives.
The Dec. 20 target would land on the Friday before Christmas and come three weeks after the comment period closed on a supplemental rulemaking the agency released in mid-October. The agency is required under the Renewable Fuel Standard (RFS) statute to release annual renewable fuel blending targets by Nov. 30 of the previous year but has missed that deadline in the past.
"They know that they're already behind schedule so that's a date that they have circled," a biofuel industry source told OPIS at the RNG 2019 Conference here.
"They also know that they have a lot of work to turn around in a three-week period."
Word that EPA could release the number before Christmas comes a day after Frank Machiarrola, senior vice president of policy, economics and regulatory affairs with the American Petroleum Institute (API), offered a "ballpark estimate" that would have the agency issue a final RVO in late December or early January. EPA, he said, will clearly need additional time, but "we're in uncharted territory."
The agency in July proposed an RVO of 20.04 billion gal of renewable fuels to be blended next year, a 120-million-gal increase from this year's 19.92 billion gal. Within that total, EPA left unchanged the volume for conventional biofuel at 15 billion gal, the statutory level, and proposed to increase the advanced biofuel volume to 5.04 billion gal from 4.92 billion gal this year.
The 2020 total includes the already-finalized 2.42-billion-gal RVO for biomass-based diesel (BBD). EPA, which is required to set BBD volumes a year ahead of the others, has proposed to maintain that target for 2021. The cellulosic biofuel target was set at 540 million gal, up from the 2019 target of 420 million gal.
EPA in mid-October requested comment on a plan that would see it redistribute volumes of gasoline and diesel lost to RFS compliance through small-refinery exemptions (SREs) based on a three-year rolling average of relief recommended by the U.S. Department of Energy.
The proposal was widely criticized by the biofuels industry, which argued that it fell short of a commitment it believed it had received from the Trump administration that would prohibit EPA waiving more gallons than it would prospectively reallocate when developing annual RVOs.
--Jordan Godwin, jgodwin@opisnet.com
Copyright, Oil Price Information Service
---
Biofuels Proponents Urge EPA to Change Supplementary Proposal
October 30, 2019
YPSILANTI, MICH. -- Biofuels industry proponents on Wednesday urged the U.S. Environmental Protection Agency (EPA) to consider changing its proposed supplemental rulemaking for how it will factor in small-refinery exemptions (SREs) in setting annual Renewable Volume Obligations (RVOs) under the Renewable Fuel Standard (RFS).

About 60 biofuels advocates, mostly representing fuel and feedstock producers, testified before EPA here, saying the proposal would cause further harm to their industries.

In its supplemental rulemaking proposal released on Oct. 15, EPA said it would project the volume of gasoline and diesel that would be lost to RFS compliance through SREs based on a three-year rolling average of the relief recommended by the U.S. Department of Energy (DOE), including petitions where DOE had recommended the agency provide partial exemptions.

American Coalition for Ethanol (ACE) CEO Brian Jennings said the prospective calculation methodology "betrays" what was represented to the industry in negotiations with the Trump Administration, calling it a "classic bait-and-switch."

"Refiners should no longer be allowed to drive the RFS into the ditch," Jennings said. "It's time for EPA to finally take back the keys to the program."

Renewable Fuels Association (RFA) President and CEO Geoff Cooper cited a six-fold increase in the reduction of blending requirements in the three-year period from 2016 to 2018 when compared to the three-year period from 2013 to 2015. Cooper added that proving economic hardship under the SREs should be more difficult for small refiners considering the depression of Renewable Identification Number (RIN) credits values.

"Unfortunately, the proposed supplemental rule bases its estimates of gasoline and diesel that will be exempted in 2020 on the historical recommendations for exempted volumes it received from the Department of Energy rather than the actual exemptions it has granted," Cooper said. "The problem with this proposal is that EPA has typically ignored DOE recommendations in deciding SRE petitions."

Growth Energy CEO Emily Skor urged EPA to use the rolling average of actual exempted volumes from the three most recently completed compliance years in the final rule, as she said was promised by the administration.

"As drafted, EPA's plan fails to accurately account for lost gallons and betrays President Trump's promise to rural America," Skor said. "It cuts the fix we were promised in half, if not more, and destroys what may be our last chance to bring back the ethanol plants that have shut down and help ease the burden facing American farmers."

National Biodiesel Board (NBB) Director of Regulatory Affairs Kate Shenk echoed Skor's calls to change the way it considers the exemptions in the final rule, adding that the agency should limit the number of SREs it issues.

National Corn Growers Association (NCGA) Ethanol Action Team member Brian Thalmann said Midwest farmers have been disproportionately harmed by EPA's recent actions around the RFS.

"We're in the thick of harvest and, quite frankly, I would rather be in the field. But the issue we're discussing today is too important to corn farmers like me not to be here," Thalmann said. "I have a simple message -- when it comes the Renewable Fuel Standard, we need EPA to follow the law. As farmers, we follow rules put in place by state and federal agencies, including the EPA. We are simply asking EPA to do the same for us."

Iowa Renewable Fuels Association (IRFA) Executive Director Monte Shaw emphasized what a tremendous loss the 2019 compliance year could be for the ethanol industry. Iowa Secretary of Agriculture Mike Naig also testified, painting a bleak picture of the economic harm done to farmers in his state.

"Ethanol plants have been shut down and hundreds of families have been impacted by those closures," Naig said. "They've been forced to make hard, life-changing decisions because of EPA's failure to uphold President Trump's promises."

About a dozen petroleum industry advocates also testified against the proposals on Wednesday morning.

"The misguided policy to exempt small refinery exemptions punishes the companies already complying with the standard," American Petroleum Institute (API) senior policy advisor Patrick Kelly said. "Reallocating these exemptions distorts the competitive marketplace."

Tim Hogan, Director of Motor Fuels for the American Fuel & Petrochemical Manufacturers (AFPM), said his group opposes reallocation of SRE volumes and said the SREs are a symptom of a larger problem that the RFS mandates are unrealistic.

"Biofuels groups have established a false narrative that biofuel volumes have been lost or unrealized -- this is verifiably false," Hogan said. "Government data shows year-over-year increases in ethanol blend rates."

Fueling American Jobs Coalition representative Alex Gazmararian said EPA's proposal of forecasting future SREs is "arbitrary and capricious," calling the proposal "unlawful."

"The supplemental proposal is deeply flawed because it's based on the false premise that SREs destroy ethanol demand," Gazmararian said. "Independent analysis and empirical data alike prove these exemptions have no impact on ethanol production, while keeping RFS compliance costs in check."

--Jordan Godwin, jgodwin@opisnet.com

Copyright, Oil Price Information Service


---
EPA Adm. Wheeler Says RFS Ethanol Volumes Will Net 15 Billion Gal
October 8, 2019
Future conventional ethanol volumes under the Renewable Fuel Standard (RFS) will "net out at" 15 billion gallons as EPA begins to prospectively account for small-refinery exemptions (SREs), agency Administrator Andrew Wheeler said on Tuesday.
Wheeler's comments, which came during an interview on WZFG radio in North Dakota, were made a day after President Donald Trump said conventional ethanol volumes next year will be "close to 16 billion" gallons.
Trump originally misspoke, saying the volumes will be close to 16 billion barrels, rather than gallons, but he was quickly corrected by Iowa Lt. Gov. Adam Gregg at a White House ceremony for the U.S.-Japan trade agreement.
"That's a lot of gallons," Trump said. "So I think they - so they should like me out in Iowa and all of the different places, huh?"
"Very appreciative of your actions, sir," Gregg said, to which Trump replied, "I think so."
Trump was touting his administration's compromise proposal, released Friday, on how EPA will handle RFS obligated volumes lost to SREs.
In an outline of the plan released Friday, EPA said it would release a supplementary proposal to begin accounting for SREs on a three-year rolling average. The plan was hailed by most biofuels advocates and industry groups as a win, but uncertainty around the specifics of the proposal remain.
Asked during the radio interview whether EPA sides with refiners over farmers on the RFS, Wheeler said the Obama administration's policy toward SREs was successfully challenged in court by small refiners. He added that under the Trump administration, the volumes waived by SRE dropped to 1.4 billion gal in 2018 from 1.7 billion gal in 2017.
"Going forward, we're going to estimate how many small-refinery exemptions we expect to grant next year and increase the number for 2020 by that amount," Wheeler said. "So, at the end of the day, we will net out at the 15 billion gallons that's in the Clean Air Act for the ethanol program."
In its Friday press release, the agency said, "EPA will seek comment on actions to ensure that more than 15 billion gallons of conventional ethanol be blended into the nation's fuel supply beginning in 2020."
Whether the total will be "net" 15 billion gallons as Wheeler said Tuesday, "more than 15 billion gallons" as EPA said Friday or "close to 16 billion galls" as Trump said Monday remains unclear.
The proposal has had a bearish reaction on ethanol-related D6 Renewable Identification Number (RIN) credit values, which have tumbled nearly 30% from Friday's peaks of 27cts/RIN to as low as 19.5cts/RIN on Monday.
"Going forward, it should not impact or hurt the corn farmers," Wheeler said.
"We'll still have some small-refinery exemptions, but it should not negatively impact the corn farmers or the ethanol industry, and we'll end up at the 15-billion-gallon level."
Wheeler also highlighted the warm reception the proposal received by most in the ethanol industry.
"I think people are very pleased with the compromise," Wheeler said. "The small refineries are pleased that they will still get that relief if they need it, and the ethanol industry across the board has been very pleased and has spoken in favor of it to make sure that we net out the 15 billion gallons."
--Jordan Godwin, jgodwin@opisnet.com
Copyright, Oil Price Information Service
---
As Ethanol Margins Return, So Could Production: Sources
October 1, 2019
With ethanol prices rallying for much of the last week, values touched levels not seen in more than two years, boosting margins to their highest levels in at least six months.
But the question many in the market are now asking is, "How long can the higher prices last?"
"We're about to find out in the next two weeks," one ethanol trader said. "We'll see how disciplined the industry can be."
The OPIS Chicago Argo ethanol assessment on Monday jumped to $1.64/gal, up nearly 25cts, or 18%, over the last week of September. The OPIS September average of $1.3909/gal was up from $1.3640/gal in August and $1.2778/gal in September 2018, closing out the third quarter at an average of $1.4162/gal, the highest since Q2 2018.
That boost sent margins at a representative Iowa dry-mill ethanol plant to 18.2cts/gal on Sept. 27, the highest level since late March, according to the most recent weekly data released by Iowa State University's Center for Agricultural and Rural Development (CARD). The margin, which frequently dipped into negative territory this summer, averaged just 3.9cts/gal in Q3, down from 4.2cts/gal in Q2 and 19.52cts/gal in Q3 2018.
The irony for many ethanol producers, however, is that margins have begun to rebound only after the industry finally began to make material production cuts.
Ethanol prices rallied in the back half of last week after the U.S. Energy Information Administration (EIA) on Wednesday released its weekly data that showed production had fallen to a three-year low in the week ended Sept. 20.
EIA estimated production that week at just 943,000 b/d, down 60,000 b/d from the previous week to the lowest level since the week that ended April 29, 2016, when output was 923,000 b/d.
The Q3 average production rate (with one reporting week remaining) was at 1.026 million b/d, down 2.5% from the Q2 average of 1.052 million b/d and nearly 3% from 1.058 million b/d in Q3 2018.
Roughly a dozen ethanol plants with annual production capacity approaching 800 million gal/yr, or more than 52,000 b/d, have been shut. Many in the industry have blamed the closures on the poor margin environment and the wave of small-refinery exemptions (SREs) granted by the Trump administration.
One of the most recent plants to go offline, Siouxland Energy Cooperative, two weeks ago said it was idling production at its 70-million-gal/yr plant in Sioux Center, Iowa, and blamed the SREs for undermining the Renewable Fuel Standard and reducing ethanol demand by "4 billion gallons."
Further, an unknown number of plants are producing well below nameplate capacity, with many producing at minimum levels to meet their contracted volumes, sources said.
"A lot of people had to make a lot of tough decisions over the past few months," one producer source said. "But once margins are back, a lot of that production will come right back with it."
Several sources estimated Tuesday that plants in "warm shutdown mode," rather than a full-blown idle, could likely come back online in less than two weeks.
Those units that have fully shut, however, would likely need at least a month to come back online, and those owners of those plants would likely want to see more proof that the higher margins will be sustained for a longer period before they decide to resume production, the producer source said.
"If this rally is for real and prices are really back, you'll see plants ramp up again, maybe even as soon as by the end of the month," the source said.
"Won't take long."
--Jordan Godwin, jgodwin@opisnet.com
Copyright, Oil Price Information Service
---
EPA Official Says Agency 'Anticipates' Releasing 2020 RVO by Nov. 30
September 24, 2019
CHICAGO -- EPA "anticipates" that it will release its final 2020 Renewable Volume Obligation (RVO) by the statutory Nov. 30 deadline, Dallas Burkholder with the agency's Office of Transportation and Air Quality said Tuesday at the OPIS 11th annual RFS2, RINs and Biodiesel forum here.
Burkholder's comment comes as the White House continues to work toward completing package of proposals designed to placate a biofuels industry angry over EPA's increased approval of small refinery exemptions (SREs) under the Renewable Fuel Standard (RFS).
Sources familiar with the White House talks believe the administration will look to significantly boost next year's renewable fuel blending targets and could seek to add still more volume by restoring some of the gallons waived through prior-year SREs.
Burkholder said that while EPA is still awaiting word from the administration, it does not have a set, "go, no-go" date by which it must receive a proposal in time to incorporate it into a final RVO.
The agency, he said, has a range of "flexibilities" that would allow it to incorporate the proposal and still meet the Nov. 30 deadline, he said.
--Jeff Barber, jbarber@opisnet.com
Copyright, Oil Price Information Service